IR2104 Half Bridge MOSFET Driver
The IR2104 is a high-speed Half-Bridge gate driver chip that accepts low-power input to output high-power current drives. It can be used to drive high-power switching devices like MOSFETs and IGBTs and can drive both high-side and low-side MOSFETs. The IR2104 has a typical source current of 0.21A and the sink current of 0.36A. The logic input is compatible with standard CMOS or LSTTL output, down to 3.3V logic.
IR2104 Pinout Configuration
| | | |
| --- | --- | --- |
| Pin Number | Pin Name | Description |
| 1 | VCC | Logic and internal gate drive supply voltage |
| 2 | IN | Input Pin |
| 3 | SD | Shutdown Pin (Active Low) |
| 4 | COM | Chip power and signal ground |
| 5 | LO | Low side gate driver output |
| 6 | VS | High side floating supply return |
| 7 | HO | High side gate driver output |
| 8 | VB | High side gate driver floating supply |
Features and Specifications
Floating channel designed for bootstrap operation
Fully operational to +600V
Tolerant to negative transient voltage
dV/dt immune
Gate drive supply range from 10 to 20V
Undervoltage lockout
3.3V, 5V, and 15V input logic compatible
Cross-conduction prevention logic
Internally set deadtime
High side output in phase with the input
Shut down input turns off both channels
Matched propagation delay for both channels
IR2104 Equivalents
DGD2104, IR2103
Other MOSFETs
Note: Complete technical details can be found in the IR2104 datasheet given at this page's end.
How to use IR2104 MOSFET?
The schematics below show the typical application diagram of an IR2104 Gate Driver. Keep in mind that the bootstrap diode and bootstrap capacitor are critical for driving the high side. The value of the bootstrapping capacitor will affect the high-side switching.

IR2104 MOSFET Simplified Circuit Diagram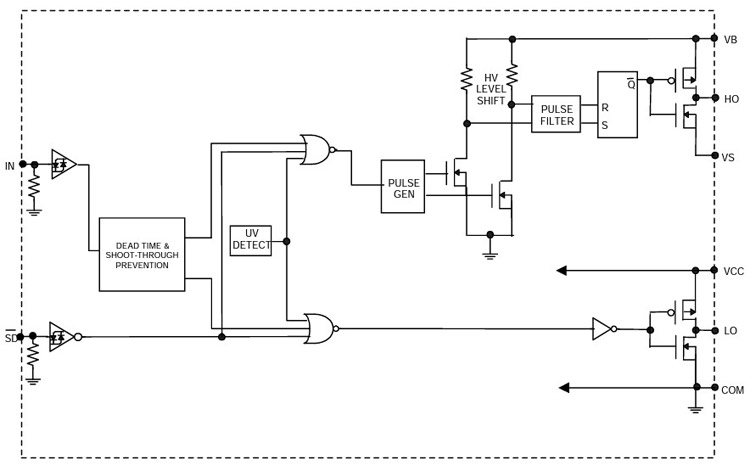 Applications
Inverters
Switch mode power supplies
Power tools
Motor drivers
Robotics
2D-Model and Dimensions