LM39302 3A Low-Voltage Low-Dropout Regulator
The LM39302 is a low-dropout (LDO) voltage regulator that offers reliable and efficient power management solutions. Designed to deliver stable and precise output voltages, this integrated circuit provides excellent line and load regulation performance. The LM39302 features a low quiescent current, which significantly reduces power consumption and enhances battery life in portable electronic devices. Its advanced architecture ensures superior thermal performance, enabling it to operate reliably even in challenging temperature conditions. Additionally, the LM39302 incorporates built-in protection mechanisms such as over current limiting, thermal shutdown, reversed battery protection, reversed-leakage protection, and reversed-lead insertion, safeguarding the device and connected components against potential damage.
LM39302 Pinout Configuration
| | | |
| --- | --- | --- |
| Pin | Name | Description |
| 1 | EN | Chip Enable |
| 2 | VIN | Input Supply |
| 3 | GND | Ground |
| 4 | VOUT | Output |
| 5 | FLG/ADJ | Error Flag output or Output Adjust |
Features
Guaranteed Output Current of 3.0A
Fixed Output Voltage: 1.5V, 1.8V, 2.5V, 3.3V and 5.0V
1% initial accuracy
Low ground current
Over-Temperature/Over-Current Protection
Fast transient response
Available in TO-263 packages
-40℃ to 125℃ Junction Temperature Range
LDOs Compatible with LM39302
MIC39302, MIC29302, SPX29302
Other Popular LDOs
AP7366, NCP167AMX330TBG, LM2940S
Note: Complete technical details can be found in the LM39302 datasheet at this page's end.
Application Circuit
The following image shows the typical application circuit for the LM39302.

The LM39302 requires an output capacitor to maintain stability and improve transient response. When the output capacitor is 47uF or greater, the output capacitor should have less than 1 of ESR. This will improve transient response as well as promote stability. An input capacitor of 1uF or greater is recommended when the device is more than 4 inches away from the bulk ac supply capacitance, or when the supply is a battery.
Applications
Battery Powered Equipments
Motherboards and Graphic Cards
Microprocessor Power Supplies
Peripheral Cards
High Efficiency Linear Regulators
Battery Chargers
2D-Model and Dimensions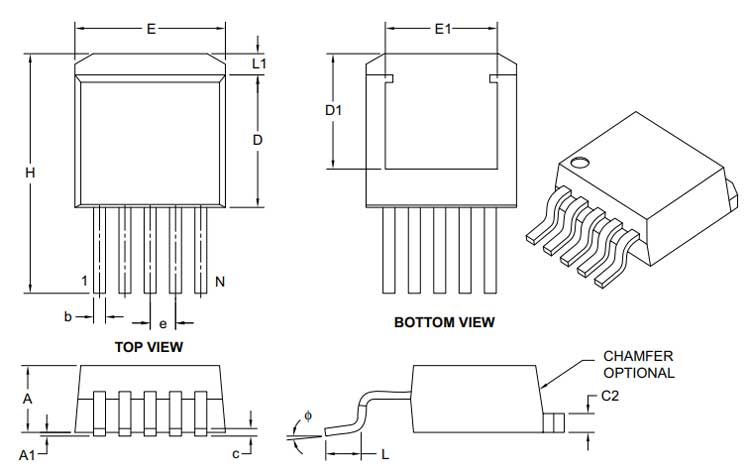 Above image is the 2D CAD drawing of LM39302 LDO along with its dimensions in millimetres. The dimensions can be used to create custom footprints of the module and be used for PCB or CAD modelling.