AP7366 600MA Low Quiescent Current Fast Transient Low Dropout Linear Regulator
The AP7366 is a low dropout (LDO) voltage regulator with a maximum output current of 1.5 A. It is designed to provide a stable, low-noise power supply for various electronic devices, such as microcontrollers, sensors, and communication modules. The AP7366 has a small package size and low quiescent current, making it suitable for use in portable and battery-powered devices. It is available in a compact SOT-23-5 package and is specified for operation over a temperature range of -40°C to 125°C. Overall, the AP7366 is a reliable and efficient LDO voltage regulator that can be used in a variety of applications where a stable power supply is required. It is particularly well-suited for high-current applications that require a low dropout voltage and fast transient response.
AP7366 Pinout Configuration
| | | |
| --- | --- | --- |
| Pin | Function | Description |
| 1 | Input (VIN) | Power input pin |
| 2 | Ground (GND) | Ground pin |
| 3 | Enable (EN) | Enable pin, Active high |
| 4 | NC (ADJ for Adjustable version) | Not used for fixed voltage version, voltage feedback pin for adjustable version |
| 5 | Output (VOUT) | Regulator output pin |
AP7366 Features
600mA Low Dropout Regulator with EN
Low IQ: 60µA
Wide Input Voltage Range: 2.2V to 6V
Wide Adjustable Output: 0.8V to 5.0V
Fixed Output Options: 1.0V, 1.2V, 1.5V, 1.8V, 2.0V, 2.5V, 2.8V, 3.0V, 3.3V, 3.6V, 3.9V
High PSRR: 75dB at 1kHz
Fast Start-Up Time: 150µs
Stable with Low ESR, 1µF Ceramic Output Capacitor
Excellent Load/Line Transient Response
Low Dropout: 300mV at 600mA
Current Limit and Short Circuit Protection
Thermal Shutdown Protection
Ambient Temperature Range: -40°C to +85°C
Note: The Complete Technical Details can be found on the AP7366 datasheet given at the end of this page.
Equivalent for AP7366: AP7365,
Alternative for AP7366: MIC5317, XC6210
How to Use the AP7366?
Integrating AP7366 into your design is simple. Follow the application circuit for the AP7366 given below. A 1μF ceramic capacitor is recommended between IN and GND pins to decouple the input power supply glitch and noise. Similarly, add an output capacitor of value 1μF. For the adjustable version connect the feedback voltage divider to the ADJ pin.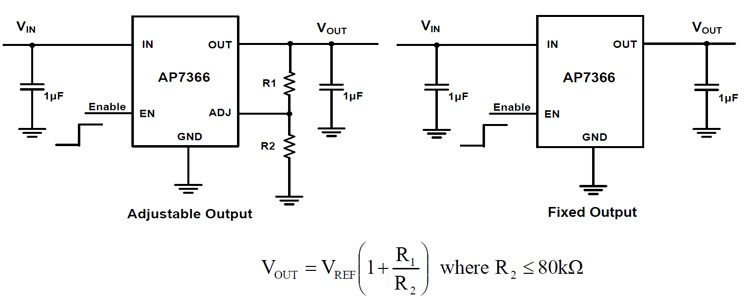 Applications
Servers and Notebook Computers
Low and Medium Power Applications
FPGA and DSP Core or I/O Power
Consumer Electronics
Selection Table
| | | |
| --- | --- | --- |
| Part Number | Package | Output Voltage |
| AP7366-W5-7 | SOT25 | Adjustable |
| AP7366-10W5-7 | SOT25 | 1.0V |
| AP7366-12W5-7 | SOT25 | 1.2V |
| AP7366-15W5-7 | SOT25 | 1.5V |
| AP7366-18W5-7 | SOT25 | 1.8V |
| AP7366-20W5-7 | SOT25 | 2.0V |
| AP7366-25W5-7 | SOT25 | 2.5V |
| AP7366-28W5-7 | SOT25 | 2.8V |
| AP7366-30W5-7 | SOT25 | 3.0V |
| AP7366-33W5-7 | SOT25 | 3.3V |
| AP7366-36W5-7 | SOT25 | 3.6V |
| AP7366-39W5-7 | SOT25 | 3.9V |
2D Model and Dimensions