New Automotive-Grade Silicon Carbide Schottky Diodes with High Power Density and Reduced EMI for UPS and Photovoltaic Inverters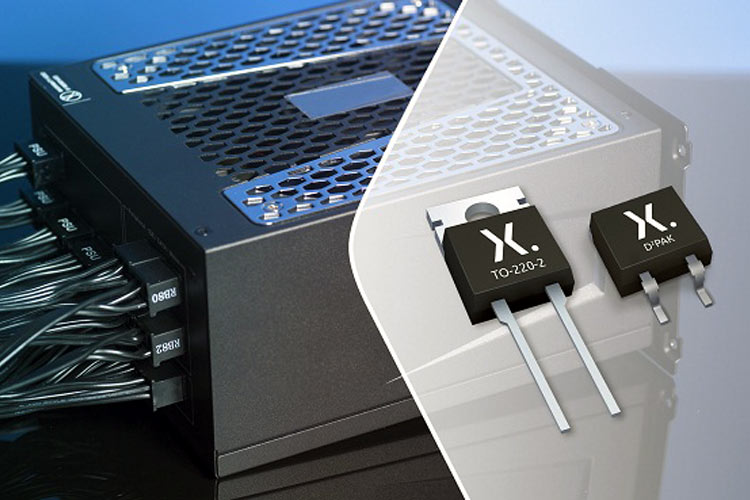 Nexperia has expanded its wide bandgap semiconductor offering by introducing a new family of high-performance Silicon Carbide (SiC) Diodes that initially target industrial and consumer applications including Switch Mode Power Supply (SMPS), AC-DC and DC-DC converters, battery charging infrastructure, Uninterruptible Power Supply (UPS), and Photovoltaic inverters. This new industrial-grade with 650 V repetitive peak reverse voltage (VRRM) and 10 A continuous forward current (IF), designed to combine ultra-high performance and high efficiency with low energy loss in power conversion applications. Moreover, these diodes are suitable for a wide range of automotive applications like On-Board Chargers (OBC), inverters, and high voltage DC-DC converters.
This family of diodes provides the benefit of a high-voltage compliant real 2-pin (R2P) package with higher creepage distance and is available in a choice of surface mount (DPAK R2P and D2PAK R2P) or through-hole (TO-220-2, TO-247-2) devices. The SiC Schottky diode encapsulated in a through-hole power plastic package offers temperature-independent capacitive turn-off and zero recovery switching behavior combined with an outstanding figure-of-merit (QC x VF).
Features
Zero forward and reverse recovery

Temperature independent fast and smooth switching performance

Outstanding figure-of-merit (Qc x VF)

High IFSM capability

High power density

Reduced system cost

System miniaturization

Reduced EMI
Applications
Switch Mode Power Supply (SMPS)

AC-DC and DC-DC converter

Battery charging infrastructure

Server and telecom power supply

Uninterruptible Power Supply (UPS)

Photovoltaic inverters
Availability
Samples of industrial-grade 650 V, 10 A SiC Schottky diode are now available.