TPA3118 Mono Amplifier Module
TPA3118 Mono Amplifier is a Class-D stereo efficient, digital amplifier that can drive speakers up to 60W/8Ω. TPA3118 mono amplifier's advanced oscillator/PLL circuit gives multiple switching frequency options to avoid AM interferences. TPA3118 mono amplifier is fully protected against faults with short-circuit protection and thermal protection as well as over-voltage, under-voltage, and DC protection.
TPA3118 Module Pinout Configuration
| | |
| --- | --- |
| Pin Name | Description |
| Audio In(+) | Audio Input Positive edge |
| Audio In(-) | Audio Input Negative edge |
| Mute (Short Circuit Port) | Short circuit Jumper circuit for active Mute |
| Power In (VCC/+) | 4.5v-24v DC power VCC |
| Power In (GND/-) | 4.5v-24v DC power Ground |
| Speaker Out(-) | Speaker Negative Output |
| Speaker Out(+) | Speaker Positive Output |
The pinout can be easily seen in the Board Legend.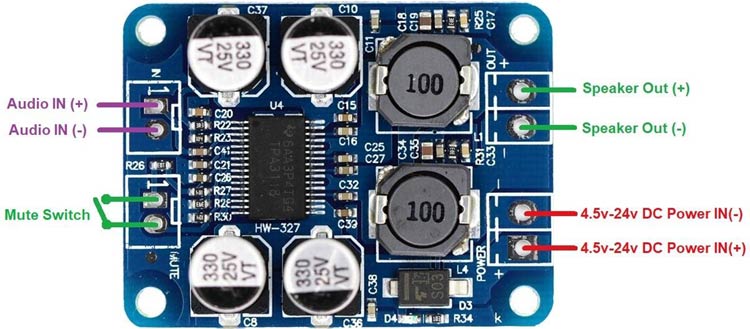 TPA3118 Mono Amplifier Module Features
Operating Voltage: Wide power supply ranges from 4.5V to 24V DC

Multiple Switching Frequencies
AM Avoidance

Master and Slave Synchronization

Up to 1.2-MHz Switching Frequency
Feedback Power-Stage Architecture

Differential and Single-Ended Inputs

Stereo and Mono Mode With Single-Filter Mono Configuration

Integrated Self-Protection Circuits
Overvoltage

Undervoltage

Overtemperature

DC-Detect

Short Circuit With Error Reporting
Dimensions(LxWxH) in cm 13 x 11 x 6
Note: Complete technical details can be found in the TPA3118 Datasheet linked at the bottom of this page.
Alternative products
Alternative products for TPA3118 based amplifier module boards are listed below-
LM386 Mono audio amplifier module Board.
TDA8932 Based Amplifier Board.
TPA3118 Mono Amplifier - Overview
The main Voice Recorder/Playback IC is TPA3118.

TPA3118 device is a highly efficient Class-D audio amplifier with integrated 120mΩ that allows output currents up to 7.5A. The device can be configured for either master or slave operation by using the SYNC pin, which helps to prevent audible beats and prevent audible beats noise. An internal ADC is used to detect the 8 input states. The first four stages set the GAIN in Master mode in gains of 20, 26, 32, 36 dB respectively, while the next four stages set the GAIN in Slave Mode In gains of 20, 26, 32, 36 dB respectively.
TPA3118 employs a shutdown mode of operation designed to reduce supply current to the absolute minimum level during periods of non-use for power conservation.
The TPA3118 contains a complete set of protection circuits carefully designed to make system design efficient as well as to protect the device against any kind of permanent failures due to short circuits, overload,over-temperature, and under-voltage.
Interfacing Diagram
The interfacing is quite easy. Connect Power along with an audio input. Users can connect the speakers across the amplifier output directly.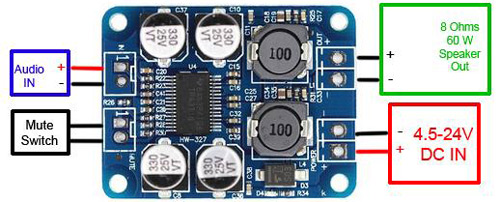 Application of TPA3118 Mono Amplifier
Mini-Micro Component, SpeakerBar, Docks

After-Market Automotive

CRT TV

Consumer Audio Applications
2D Model
The dimensions of the TPA3118 Mono Amplifier Module is shown below: