PAM8403 Stereo Audio Amplifier Module
PAM8403 is an Amplifier Board which can be powered using simple 5V input and could drive two 3W + 3W stereo speakers. It is an excellent choice, who wants a Class-D stereo audio amplifier in small board space. This Amplifier allows the user to achieve high-quality audio reproduction from a stereo input. Additionally, it has a special feature that is, it can drive speakers directly from its output.
Pin Description of PAM8403 Amplifier Board
| | |
| --- | --- |
| Pin Name | Description |
| L | Audio Jack (TRS-Tip) Left Channel Input |
| Gnd | Audio Jack (TRS-Sleeve) Ground Channel Input |
| R | Audio Jack (TRS-Ring) Right Channel Input |
| 5v(+) | 5v DC Power VDD |
| 5v(-) | 5v DC Power GND |
| L(+) | Left Channel Positive Output |
| L(-) | Left Channel Negative Output |
| R(+) | Right Channel Positive Output |
| R(-) | Right Channel Negative Output |
Alternatives for PAM8403: PAM8406, TDA7265
Other Audio Amplifier ICs: LM386, LM380, LM4871, TDA2030, LM1875
Features of

PAM8403 Amplifier Board
Operating Voltage: Wide power supply ranges from 2.5V to 5.5V DC

Dual-channel stereo with high output power (3W+3W Output at 10% THD with a 4Ω Load @5v DC)

Max Gain 24 dB.

Filterless architecture

Low Quiescent Current and Low EMI

Operating Temperature: -40 to +85°C

Short Circuit Protection

Thermal Shutdown

Superior Low Noise

Efficiency up to 90%

Dimensions (LxWxH) in cm 2.1 x 1.8 x .3
Note: Complete technical details can be found in the PAM8403 Datasheet linked at the bottom of this page.
PAM8403 Amplifier Board
The main power Amplifier IC is the PAM8403, as you can see, the below image other than the IC, the module consists of a few components like capacitors and resistors.
The PAM8403 amplifier board is a dual-channel (stereo) amplifier that produces 6W (3W+3W) output. As any major amplifier system needs to have short circuit protection, PAM8403 has inbuilt short circuit protection that is essential for trouble-free operations. PAM8403 Amplifier IC itself does not require any kind of heat sink, so this will be a perfect choice for custom speaker projects. It can directly drive 4Ω or 8Ω speakers. It is mandatory to use a proper speaker with not more than a 3W output rating.
As this is a stereo amplifier board, the input section has two input L (Left) and R (Right) with a common ground in between them. Use any kind of audio input that needs to be amplified and it will produce 3W + 3W audio output.
This amplifier module provides a maximum gain of 24 dB with 10% THD at 5V DC input and 4 Ohms load output. It does not require heatsink which also saves additional board space. Irrespective of the heatsink, it could also provide thermal protection which is another essential feature for such a small wattage amplifier module.
PAM8403 Amplifier Board Interfacing Diagram
Circuit diagram for interfacing with two 3W speakers with the PAM8403 Amplifier Board is given below. The PAM8403 Amplifier Board can be powered using any voltage ranging from 2.5V to 5V DC. But it is recommended to use 5V input for maximum output performance.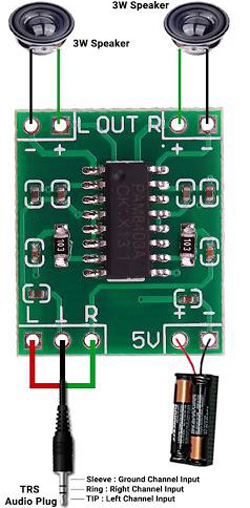 Applications of PAM8403 Amplifier Board
Speaker output in LCD Monitors / TV Projectors

Speaker output amplifier in Notebook Computers

Can be used for Portable Speakers, Portable DVD Players, Game Machines

Any possible amplifier-based project where small space and 5V output is available.
2D Model
The dimensions of the PAM8403 Amplifier Board is shown below.