FOD3180 High Speed MOSFET Gate Driver Optocoupler
The FOD3180 is a high-speed MOSFET gate drive optocoupler with 2A output current. It consists of an aluminum gallium arsenide (AlGaAs) light-emitting diode (LED) optically coupled to a CMOS detector with PMOS and NMOS output power transistors integrated circuit power stage.
Pin Description

of

FOD3180

:
| | | |
| --- | --- | --- |
| Pin Number | Pin Name | Description |
| 1 | NC | No Connection - Cannot be used |
| 2 | Anode (A) | Anode pin of the IR LED. Connected to logic input |
| 3 | Cathode (C) | Cathode pin of the IR LED |
| 4 | NC | No Connection - Cannot be used |
| 5 | Ground | Ground pin of the IC |
| 6 | Output | Output pin of the Optocoupler |
| 7 | Output | Output pin of the Optocoupler |
| 8 | Vcc | Powers the IC |
Specifications FOD3180:
Operating Voltage Range: 10V to 20V

Isolation Voltage: 5000 Vrms

Vf - Forward Voltage: 1.43 V

If - Forward Current: 25 mA

Vr - Reverse Voltage:5 V

Power Dissipation: 295 mW

Fall Time: 55 ns

Rise Time:75 ns

Available as 8-pin DIP and SMD Packages.
Note: More details can be found at the FOD3180 datasheet which is available for download at the end of this page.
Equivalent for FOD3180: 6N133
Alternatives Optocouplers: MOC3021 (Zero-crossing), MCT2E (non-Zero transistor), MOC3041 (Non-Zero Cross TRIAC), FOD3180 (High-Speed MOSFET), PC817, 4N25, 6N137
Where to use FOD3180 Optocoupler:
The FOD3180 is a High-Speed Optocoupler. As we know the term Optocoupler means we use light to indirectly couple (isolate) two sets of circuits. The operating voltage range for FOD3180 is 10V to 20V and the transistor has an output current of 8mA making it suitable to drive medium level loads. It is ideally suited for high-frequency driving of power MOSFETs used in Plasma Display Panels (PDPs), motor control inverter applications, and high-performance DC-DC converters.
How to use FOD3180:
Even though FOD3180 is capable of working with both AC and DC it is commonly used with Digital circuits and works with 5V as supply voltage. The application circuit for FOD3180 is shown below.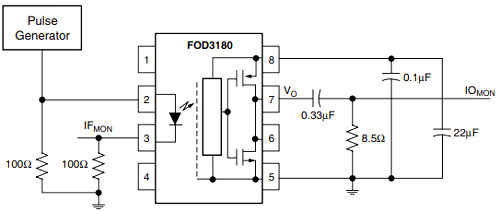 The Capacitor 0.1uF is a bypass capacitor between pins 5 and 8. The load (pin7) consists of a capacitor in series with a current limiting resistor. The capacitor represents the gate to source capacitance of a power MOSFET transistor. The input signal should have an impedance of a minimum of 50 ohms with a rise time of 75 nS of greater for the IC to respond.
Applications of

FOD3180
AC-DC Merchant Power Supply

Energy Generation & Distribution

Industrial Motor

Uninterruptible Power Supply
2-D Model of

FOD3180
Dimensions for FOD3180 IC is given below. These dimensions are for the DIP package. If you are using different package IC please refer to the FOD3180 datasheet.