TMP36 - Temperature Sensor
[Click the image to enlarge it]
TMP36 Pin Configuration
| | | |
| --- | --- | --- |
| Pin No. | Pin Name | Description |
| 1 | +Vs | Positive supply pin |
| 2 | Vout | Output voltage pin |
| 3 | Gnd | Ground pin |
Features
Operate on low voltage
10 mV/°C scale factor
±2°C Temperature accuracy
±0.5°C linearity
External Calibration not required
Stable with large capacitive loads
Specified −40°C to +125°C, operation to +150°C
Less than 50 µA quiescent current
Auto Shutdown current 0.5 µA max
Low self-heating Qualified for automotive applications
Technical Specification
Supply Voltage: 2.7 V to 5.5 V
Supply Current up to 50uA
Ramp-Up Rate 3°C/sec
Ramp-Down Rate −6°C/sec
Offset Voltage: 0.5V
Output voltage at 25°C: 750mV
Device turning ON time: 0.5ms
Operating Temperature Range: −55°C to +150°C
Storage Temperature Range: −65°C to +160°C
Package Available: TO-92; SOIC_N; SOT-23
TMP36 Equivalent Temperature Sensors
TMP35, TMP37
Alternate Temperature Sensors
LM35, LM45, MCP9700, MCP9700A, TC1046, TC1047, MCP9701, MCP9701A, DHT11
How to Use TMP36?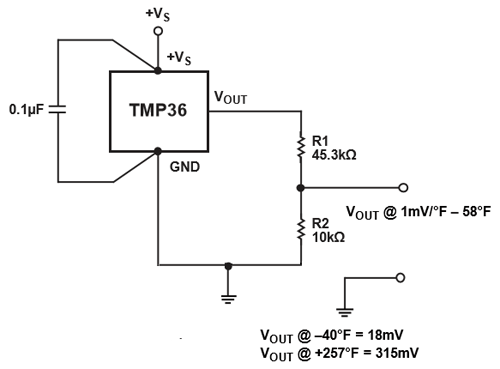 As per the TMP36 example circuit diagram shown above, the characteristics of output voltage results as 1 mV/°F but is referenced to the common ground of the circuit. Also, there is a 58 mV (58°F) offset in the output voltage.
Let's take an example:
The output voltage of the circuit reads 18 mV if the temperature of TMP36 is -40°F environment and 315 mV at +257°F. The offset voltage refers to the difference of 58(offset value) between temperature and the output voltage.
Applications
Environmental control systems
Thermal protection
Industrial process control
Fire alarms
Power system monitors
CPU thermal management
2D-model