AP2112 CMOS LDO Regulator
The AP2112 is CMOS process low dropout linear regulator that delivers a 600mA (min.) continuous load current. The AP2112 comes with an Enable function with a fixed output voltage of 1.2V, 1.8V, 2.5V, 2.6V, or 3.3V. It has an output accuracy of ±1.5% and available in SOT25, SOT89-5, and SO-8 packages.
AP2112 Pinout Configuration
| | | |
| --- | --- | --- |
| Pin No. | Pin Name | Description |
| 1 | IN | Supply Input |
| 2 | GND | Ground |
| 3 | EN | Enable/Shutdown (Input): CMOS compatible input. Logic-high = enable, logic-low or open = shutdown |
| 4 | OUT | Regulator Output |
| 5 | NC | Not Connected |
Features
Input Supply Voltage: 2.5V to 6V

Output Voltage: 3.3 V

Output Current: 600 mA

Output Type: Fixed

Continuous Output Current: 150mA

PSRR / Ripple Rejection - Typ:65 dB

Operating Supply Current: 55 uA

Dropout Voltage - Max: 400 mV

Available in SOT25, SOT89-5, and SO-8 packages
Note: The complete Technical Details can be found in the AP2112 datasheet given at the end of this page.
AP2112 Equivalents
LD2985, TPS73633, TLV713
Alternative LDO Regulators
AP2112 LDO Regulator Introduction
The AP2112 is an efficient linear voltage regulator with ultra-low noise output, very low dropout voltage (400 mV), and very low ground current. The input voltage of the Regulator can be between 2.5V to 6V. AP2112 is especially designed for hand-held, battery-powered devices, the AP2112 includes a CMOS compatible enable/shutdown control input. When shutting down, power consumption drops nearly to zero.
AP3112 is generally used in Laptop, Notebook, Portable DVD, LCD Monitor and Palmtop Computers, and other battery-Powered Equipment's.
How to use the AP2112 Regulator
AP2112 low dropout regulator comes in 5 and 8-pin package in which the enable pin can be used turn on or off the regulator, this helps the designers to turn off the regulator and prevent battery usage when not in use. Supply the input voltage to the V-in pin and we get the regulated 3.3V at the output pin. The input and output capacitors are used for ripple filtering. A sample application circuit from the AP2112 datasheet is shown below.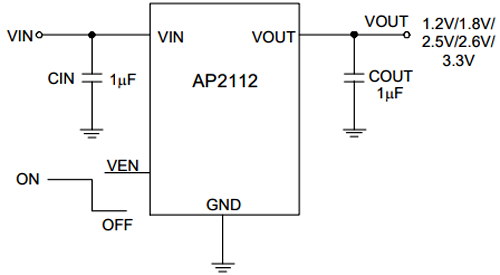 Applications of AP2112
Cellular Telephones

Laptop, Notebook, and Palmtop Computers

Battery-Powered Equipment

PCMCIA VCC and VPP Regulation/Switching

Consumer/Personal Electronics

SMPS Post-Regulator and DC/DC Modules

High-Efficiency Linear Power Supplies
2D-Model of AP2112