STWLC68 – Low Cost Wireless Charging IC to Maximize Power Transfer and Charging Efficiency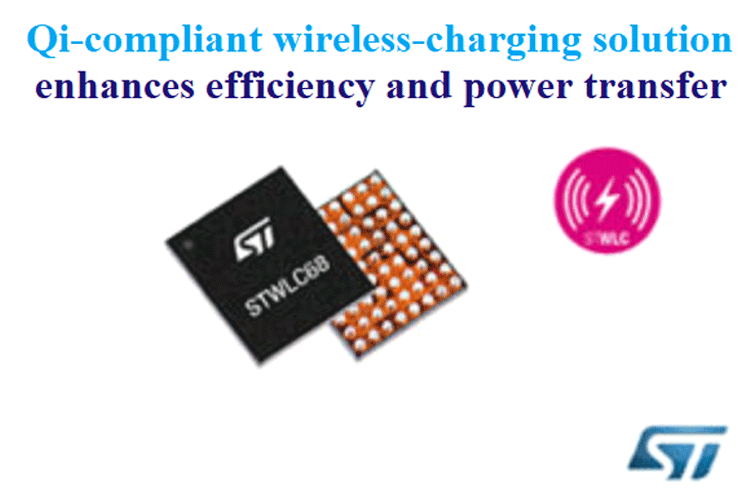 STMicroelectronics has introduced the STWLC68 family of wireless charging ICs that provides the best solution for wireless charging applications with industry-leading efficiency, highest power transfer, and safety. The new products enable rapid power transfer and power-sharing with FOD (Foreign Object Detection) as they can operate as both a high power receiver and a transmitter.
STWLC68 is designed with a fully integrated low impedance, high voltage synchronous rectifier and low drop linear regulator, hence they are able to achieve high efficiency and low power dissipation in critical applications with high sensitivity to unnecessary heat build-up. These devices need a very low BOM (Bill of Materials) and are ideal for integration in a wide range of applications from small wearable and appliances to larger ones like smartphones and tablets.
Features of STWLC68 Wireless Charging IC
Up to 5 W output power

Integrated 27 V synchronous rectifier with 98% (typ.) efficiency

3.6 V to 20 V programmable output voltage with 25 mV resolution

32-bit, 64 MHz ARM Cortex microcontroller core

Maximum Operating Temperature: 85°C

Up to 80% overall system efficiency

Qi 1.2.4 inductive wireless standard communication protocol compliant

400 kHz I2C interface

8-channels, 10-bit A/D Converter

Low drop-out linear regulator with output current and input voltage control loops

Output Over-Voltage clamping protection

On-chip thermal management and protections (Over-voltage, Over-current)
Note: More Technical information about the STWLC68 Wireless Charging IC will be available in the Datasheet linked at the bottom of this page.
STWLC68 is designed with an I2C interface that allows the firmware and platform parameters to be customized in the devices and the configuration can be programmed into the embedded OTP, the firmware patching also improves the IC's application flexibility.
Two evaluation-board types, STEVAL-ISB68RX and STEVAL-ISB68WA, are available to simplify prototyping with the STWLC68JRH for both standard 5W applications or PCBA-sensitive 2.5W low-power applications, respectively.