SFL Series: Programmable Electronic DC Loads Offer Multiple Operating Modes and High-Speed Response Times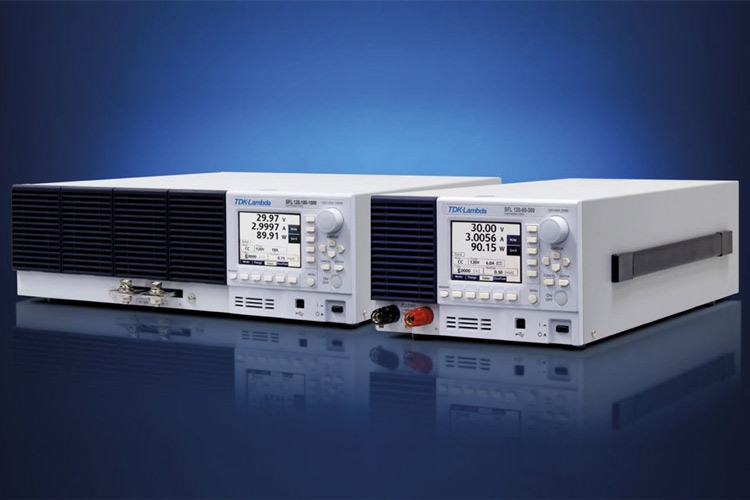 TDK Corporation has introduced the SFL series of 300W and 1,000W programmable electronic DC loads that offer high-speed current control, eliminating load current overshoot and oscillation, low voltage operation, no turn-on delay, and linear operation from 0V. This Series offers either a 120Vdc or 500Vdc maximum rating and each unit operates in 7 different load modes and 4 operating modes which enable customers to perform up to 17 different load tests on DC power supplies, fuel cells, solar cells, batteries, and components for optimal performance.
The loads of these devices can be programmed for multiple load types, including constant current, constant resistance, constant power, external control, short circuit, and constant voltage with a current limit. These devices have built-in protection features and indicator signals, including overcurrent, power limit, overtemperature, overvoltage protection and reverse connection. Moreover, the SFL load current rise and fall times (slew rate) can be controlled up to 30A/µs, and the internal memory can store and recall eight different load settings. 
Features
Stable High Speed Current Control (No Dynamic Overshoot/Oscillation) with High Slew Rate (Up to 30A/us)

Low Voltage Operation with No Turn-On Delay

Seven Operating Modes (CC, CR, CP, CV, EXT, Short, CV+Climit)

Large 3.5" Color LCD Screen • Load Terminals on Front and Rear Panel

Dynamic (Time / Frequency) Mode (Pulsating Load)

Sequence Operation (Waveform Generation)

Sweep Mode Test Function (V/I, OCP, OPP)

Built-In Memory Function (store/recall up to eight memory settings)

Parallel Operation (up to ten units)

Multi-Channel Triggering (up to ten units)

Built-In Protection & Alarms (Current Limit, Power Limit, OTP, OVP, Reverse Connection)

Optional IEEE (w/DIDO) Interface

Optional Ripple Measurement Interface
Applications
General purpose industrial applications

Test and measurement