RACM550G - AC to DC 550W Fanless Power Supply with Baseplate Cooling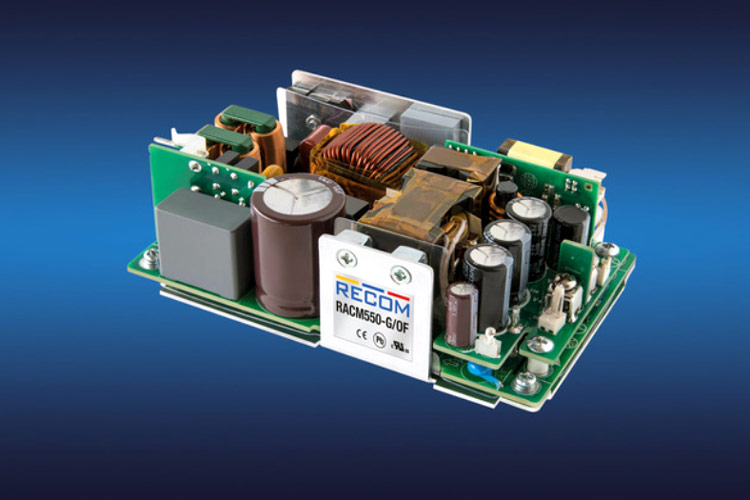 The ultra-compact RACM550-G series Power supply from RECOM is designed to support up to 300 Watts of continuous output power without a cooling fan. The 3 x 5 baseplate- cooled design is available with a total height of just 38mm and offers high efficiency along with the direct heat dissipation through the metal housing in the end application. The nominal outputs 24V, 36V, 48V, 56V can drive dynamic loads for several seconds with forced-air depending on the model, line input, and ambient temperature even continuously.
Features of RACM550-G Power Supply
Can Operate at Peak Power of up to 550W

Operates with a wide input range of 80 to 264VAC

Delivers 24V, 36V, 48V,56V output

Up to 5000m operational altitude

Operating ambient temperatures of -40 to +70°C
Note: More technical details about the Power supply can be found in the RACM550-G datasheet linked at the bottom of this page.
The RACM550-G Series has been designed with a 12V smart fan output and a 5V/1A VSB output for applications with housekeeping circuits and on/off control. In standby mode, the units consume less than 500mW of power and they deliver up to 5V/400mW output for display functions according to Ecodesign lot 6 needs. The RACM550 series is available as an open frame design or in an enclosed metal housing and they are best suitable for household, industrial, and ITE applications. For more information about RACM550-G Series, Visit the official website of Recom.