Integrated Resonant Transformer with Minimal Parasitic Variation Saves Space and Simplifies PCB Layouts in LLC Applications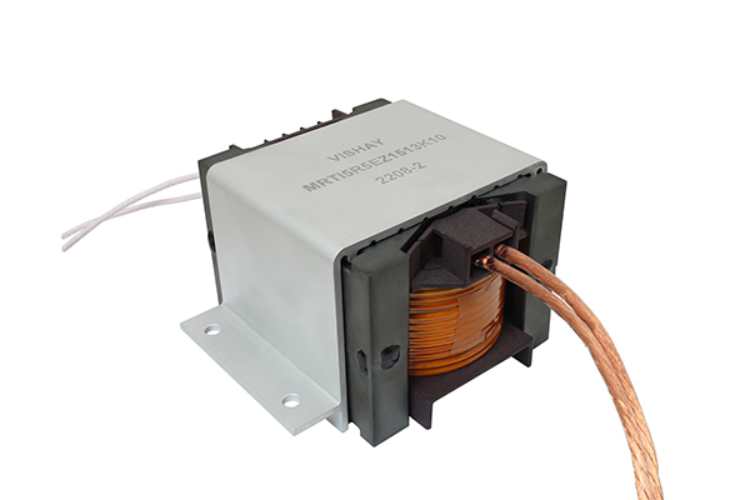 Vishay Intertechnology, Inc. has introduced a new resonant transformer for inductor-inductor-capacitor (LLC) applications that features both the transformer and an integrated inductor in a single package. The new MRTI5R5EZ resonant transformer offers fully tunable magnetizing and leakage inductance with minimal parasitic variation and is designed to save PCB space while simplifying layouts and reducing component mounting requirements. This device can be used in onboard chargers and half- / full-bridge resonant power supply transformers in industrial controls, solar inverters, and military, avionics, and construction equipment.
This device features operating frequencies from 100kHz to 350kHz, rated power from 4kW to 6kW with 400V to 800V input voltage, and rated current to 28A. The isolation voltage rating for this device is 2500V and it includes a bracket for cold plate mounting with raised bosses, with flush-mount options available. M4 ring terminals are standard for the transformer, with customizable lead lengths and terminal types available, and the device can be provided with a thermal gap pad on the mounting surface.
Features
5.5 kW transformer / inductor design for unidirectional LLC applications

Magnetizing and leakage inductance fully tunable

Turns ratio can be customized per application

No interconnects or jumpers needed from resonant inductor to the transformer winding

Operating frequencies from 100 kHz to 350 kHz

Designs for 400 V to 800 V inputs

Bracket included for cold plate mounting with raised bosses (flush mount options available)

Minimal parasitic variation optimizes capacitor selection

Built in voltage isolation elevates corona inception

Designed for cold plate cooling at 65 °C to 75 °C

Lead lengths and terminal types can be easily customized

Can be provided with thermal gap pad on mounting surface

MRTI design: patent pending
Applications
Charging power supplies for 400 V / 600 V batteries

Unidirectional LLC converters from 4 kW to 6 kW

Industrial control, alternative energy, military, avionic, and construction equipment
Availability
Samples and production quantities of the MRTI5R5EZ transformer are available now, with lead times of four weeks for samples and 16 to 20 weeks for production quantities.