CUS350MP Series of 350W/500W Conventional Cooled AC-DC Power Supplies with 1000W Peak Power for Medical and Industrial Applications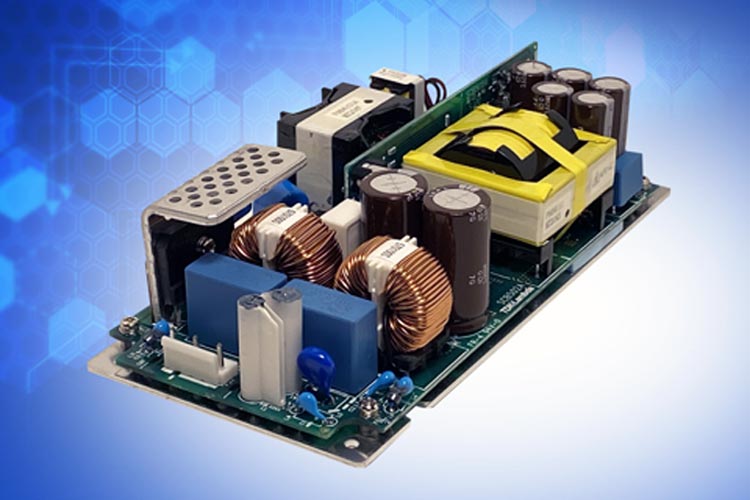 TDK-Lambda has introduced the CUS350MP series of AC-DC power supplies that can deliver 350W of power in convection mode and up to 500W with forced air; they also have a peak power of up to 1000W. Available in four (24, 30, 36, and 48V) different voltages, the device can accept an 85 to 265Vac input and has a leakage current of less than 300µA.
The medical and industrial safety certified devices in the CUS350MP series are suitable for low audible noise applications requiring occasional high peak power demands, including medical equipment utilizing DC motors and industrial printers. Available in the open frame module measuring 88 x 183 x 44mm (W x L x H), the devices weigh 770g (including baseplate) and support an ambient operating temperature of -20°C to +70°C.
The CUS350MP has a 5V 0.3A isolated standby voltage and the remote on/off is fitted as standard and has a typical full load operating efficiency of 94% with a 230Vac input. The device exhibits a 4000Vac(2xMoPP) input to output isolation, 1,500Vac (1 x MoPP) input to ground isolation and 1,500Vac (1 x MoPP) output to ground isolation for suitability in B and BF rated medical equipment.
Safety certifications include IEC/UL/CSA/EN 62368-1, IEC/EN/ES 60601-1, EN 62477-1 (OVC III), with CE marking to the Low Voltage, EMC, and RoHS Directives. The units also comply with EN 55011-B and EN 55032-B conducted and radiated emissions, meet the EN 61000-3-2 harmonics, IEC60601-1-2 Edition 4, and IEC 61000-4 immunity standards.
Features of CUS350MP Series of AC-DC Power Supplies
Convection Cooled

Medical Certification (2 x MoPP)

Class B Conducted and Radiated EMI

Compact 88 x 183 x 44mm (3.46 x 7.2 x 1.73") Package

Quiet Operation

Suitable for B and BF Rated Equipment

Easier System Compliance

Space Saving in End Equipment

Low Cost of Ownership
Note: More technical information can be found in the CUS350MP Series Datasheet linked at the bottom of this page and in the CUS350MP Series of AC-DC Power Supplies product page.