Breakthrough USB Technology: Microchip Unveils High-Performance Reclocker/Redriver Devices with Extended Reach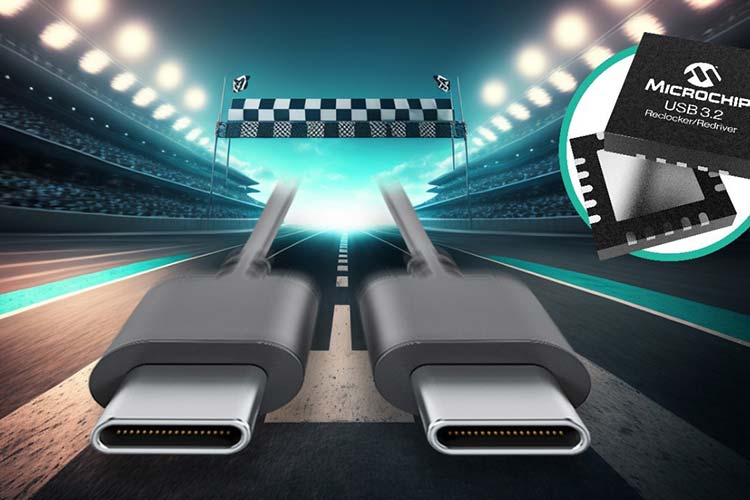 Microchip Technology has introduced two new USB reclocker/redriver devices, the EQCO510 and EQCO5X31, to meet the growing demand for long-distance and reliable USB connectivity. These devices extend the reach of USB connections up to 15 meters and are compatible with the USB 3.2 Generation 1 SuperSpeed protocol. With a data transfer rate of 5 Gbps, they ensure fast and efficient transmission in both directions.
The reclocker feature of these devices restores signal timing and prevents jitter accumulation, while the redriver feature compensates for signal degradation caused by cable attenuation, ensuring high-quality signal transmission. These USB devices also come with EyeOpen™ cable compensation and MarginLink™ signal integrity testing, which automatically adjust for frequency dependent losses in the cable and evaluate the integrity of the entire signal path in real-time.
Microchip's USB devices are suitable for various applications in the automotive, industrial, and consumer sectors. They can be used in automotive infotainment systems, data communication modules, real-time video systems, machine vision, gaming accessories, and smart cables. These devices are available in a compact 20-pin, 4 mm QFN package with wettable flanks, providing a comprehensive and space-saving solution for customers.
To support the development and demonstration of longer cables, Microchip offers two evaluation boards for the EQCO5X31, namely the USB Type-C® Cable Extender and the USB Type-C Cable Repeater. The automotive EQCO510 is priced at $4.82 each in 1,000-unit quantities, while the industrial EQCO5X31 is priced at $4.38 each in the same quantity. For more information and purchasing, customers can contact a Microchip sales representative or visit Microchip's website.