40V Highly Reliable Automotive and Industrial Grade MOSFETs for High Performance and Improved Power Density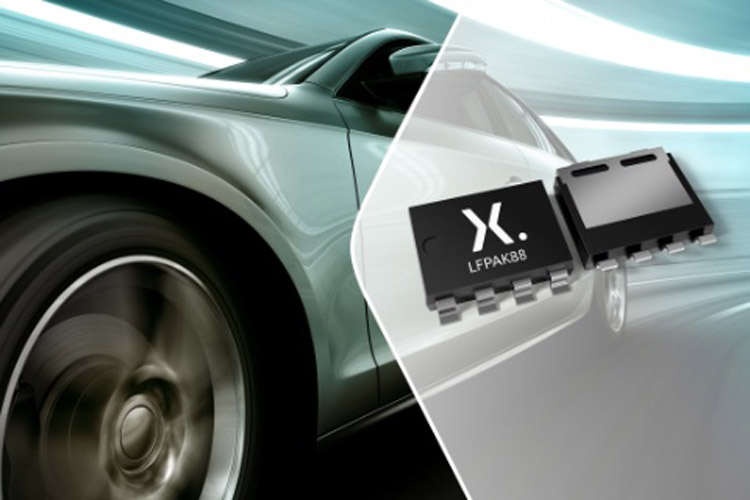 Nexperia has introduced new 0.55 mΩ RDS(on) 40 V power MOSFETs in high-reliability LFPAK88 package for automotive (BUK7S0R5-40H) and industrial (PSMNR55-40SSH) applications. Along with 50X greater power density, the new devices also offer improved performance in both Avalanche and Linear mode, leading to increased ruggedness and reliability.
For delivering safe and reliable switching, the new MOSFETs feature class-leading linear mode/ safe operating area(SOA) characteristics. SOA at 1 ms, 20 VDS operating conditions is 35 A due to a combination of silicon and package, while at 10 ms, 20 VDS where the package dominates, SOA is 17 A. With the best single pulse avalanche rating (EAS) at 2.3 j the device offers a very strong ID current rating of 500A, which can be measured rather than the theoretical limit.
The new devices allow the users to replace two paralleled old-style components with one new LFPAK88, simplifying manufacturing and increasing reliability. The AEC-Q101-qualified BUK7S0R5-40H is suitable for braking, power steering, reverse battery protection, e-fuse, DC-DC converter, and motor control applications. The industrial PSMNR55-40SSH MOSFETs suit battery isolation, current limitation, e-fuse, motor control, synchronous rectification, and load switch applications in power tools, appliances, fans, and e-bikes, scooters, and wheelchairs.
Features of LFPAK88 MOSFETs
8 mm x 8 mm footprint

53x power-density compared to wire-bonded equivalents

Advanced package design exceeds 2 x AEC-Q101

Ultra-low On-Resistance

Copper clip technology gives the low electrical and thermal resistance

Best-in-class linear mode (SOA) performance in-rush and surge protection
Note: More technical information can be found in the BUK7S0R5-40H Datasheet linked at the bottom of this page and in the product pages of automotive BUK7S0R5-40H MOSFET and industrial PSMNR55-40SSH MOSFET.