AO3404 N-Channel MOSFET
[Click the image to enlarge it]
The AO3404 is a small signal TrenchFET MOSFET from Alpha and Omega Semiconductors. These MOSFETs are known for their low on-resistance and low gate charge.
Pin description of AO3404
| | | |
| --- | --- | --- |
| Pin No: | Pin Name: | Pin Description: |
| 1 | GATE | Gate terminal that controls conduction between drain and source |
| 2 | SOURCE | Sources conventional current to ground |
| 3 | DRAIN | Conventional current 'drains' into this terminal. |
Features of AO3404
N-channel MOSFET

Drain to source voltage: 30V

Drain current: 5.8A

Low on-resistance: 28mΩ max at VGS 10V.

Gate threshold voltage: 1V to 3V

Rise and fall times 3.8ns and 5ns respectively

Comes in a SOT-23 package
Note: Complete technical details can be found in the AO3404 datasheet linked at the bottom of the page.
Alternatives for AO3404: AO3401, NCE340, SL3401S
Other N-Channel MOSFETs: IRF3205, IRFZ44, 80N60
Where to Use the AO3404
The AO3404 is a small signal N channel MOSFET with a low on-resistance and low input capacitance (680pF), which means it can be driven directly from a microcontroller pin.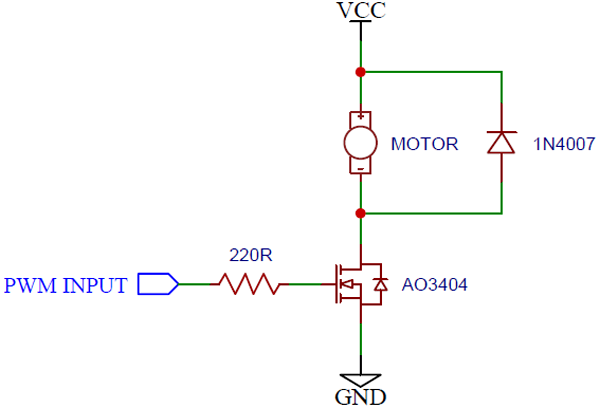 The above figure shows a simple PWM controlled motor driver using the AO3404 acting as a low side switch.
Applications of AO3404
Load switch

PWM control

Power supply

Motor drivers