Dog Barking Sound Module
Dog Barking Sound Module is a good quality sound output module with contact points for triggering the dog sound to the speakers. The module can support a 0.2-2W 8-ohm impedance speaker and can be used for any intrusion alert system, toys, or any other applications. It is a standalone module and does not require an additional amplifier for the speaker.
Features and Specifications
This section mentions some of the features and specifications of the Dog Barking Music Sound Module.
Operating voltage: 3-4.5V DC

Speaker specifications: 0.25 - 2W with 8-ohm impedance

No need for additional amplifiers

Loud and Good quality sound output
Pin Configuration
The module has a simple pin configuration. The image gives us a better understanding of the pin diagram of the module. The next section can also be referred to using this module, along with a microcontroller/microprocessor.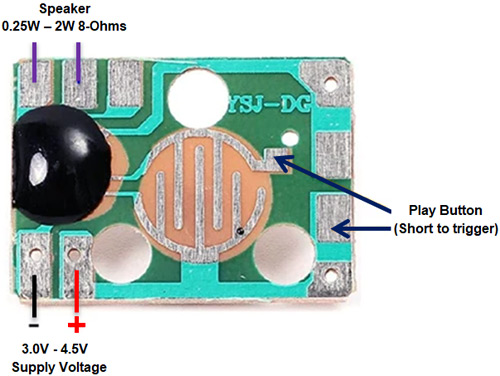 Sample Circuit to use Dog Barking Music Sound Module with an MCU/MPU and detection sensor
The dog barking music sound module has various applications. One of its popular applications is to use it with a microcontroller and a PIR sensor to detect any motion and trigger the dog barking sound.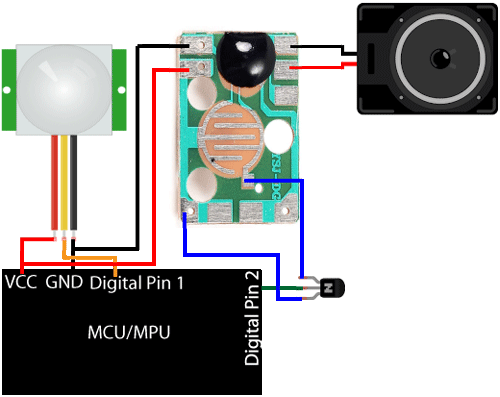 The circuit to the design is pretty simple and can be easily made. The signal for any interruption in the range of PIR is sent to a microcontroller unit, which can then trigger the connection points of the dog bark sound module using a transistor as a switch by providing a digital signal to its base terminal. A speaker of 0.25-2W and 8-ohm impedance can be connected to the speaker contact points on the module. The image above can be followed for better clarity.
Applications
Here are some of the applications of the Dog Barking Music sound module.
Intruder Alerting Devices

Door Bell

Alarms

Toys
2D Model
Below is the 2D model of the Dog Barking Sound module along with its dimensions in millimeters. The mentioned dimensions can be used to design custom footprints of the module and be used for PCB designing and CAD modelling.