BP3316D LED Driver IC
[Click the image to enlarge it]
The BP3316D is a high precision primary-side LED Driver IC that is commonly used in powering the backlight of LCD/LED displays or to drive sensitive LEDs at constant current. This IC comes with single-stage Active PFC, specially designed for universal input offline flyback or buck-boost constant current LED lighting.
Pin Description of BP3316D
Pin Number

Pin Name

Description

1

COMP

Loop Compensation Node. This pin connects a capacitor to GND for

Stabilization of the control loop and achieving accurate LED current.

2

VCC

Power Supply Pin

3

FB

Feedback Voltage Input Pin

4

CS

Current Sense Pin

5, 6

DRAIN

Internal HV Power MOSFET Drain

7, 8

GND

Ground Pin
Specifications & Features of BP3316D
Operating Voltage: 8.5V to 18

Maximum sink current: 5mA

Integrated 650V Power MOSFET

±3% LED Current Accuracy

Ultra-Low (33uA) Startup Current

Auto Fault Recovery

Available in DIP-8 package
Note: Complete Technical Details can be found at the BP3316D datasheet given at the end of this page.
Alternative to BP3316D: OB3350, SSL5015
Other Display Driver IC: LM3914, LM3915, MAX7219
How to Use BP3316D
The BP3316D is specially designed for constant current LED lighting. Operating in critical conduction mode, the driver achieves high power factor, low THD, and high efficiency. This LED driver IC provides many protection features to improve the system reliability, including LED open circuit protection, LED short circuit protection, VCC over-voltage protection, VCC under-voltage protection, CS resistor open protection and cycle by cycle current limit.
So if you looking for an LED driver IC with above specifications then BP3316D might be a good choice for you.
How to use

BP3316D
An application circuit from BP3316D IC datasheet is given below: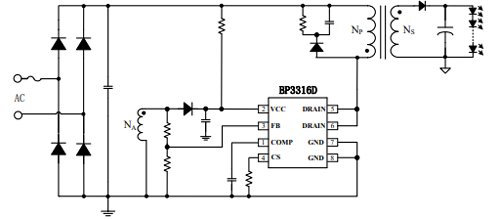 The VCC pin is powered using the AC power source. A bypass capacitor is connected from this pin to GND. When the VCC pin voltage reaches the turn-on threshold, the internal circuits start working, the COMP pin voltage is pulled up to 1.5V quickly. The FB pin is used to detect the transformer demagnetization signal and the output voltage. CS pin is connected to ground through a resistor. It is used to sense the power MOSFET current.
Applications of

BP3316D
LED Bulb, Spot Light

PAR30, PAR38 LED Lamp

T8/T10 LED String

Other LED Lighting
2D-Model

BP3316D
Dimensions for BP3316D IC given below. These dimensions are for the DIP-8 package. If you are using different package IC please refer to the BP3316D datasheet.