TDA7294 100V-100W DMOS Audio Amplifier
TDA7294 Pin Configuration
| | | |
| --- | --- | --- |
| Pin No. | Pin Name | Pin Description |
| 1 | Stand-By GND | Stand-By GND, output gets connected to ground |
| 2 | Inverting input | The Inverting input |
| 3 | Non-Inverting input | The Non-Inverting input |
| 4 | SVR | Supply Voltage Rejection used for power supply ripple or noise rejection |
| 5 | N.C. | Not connected |
| 6 | Bootstrap | Used to step-up charge |
| 7 | +Vs Supply | Positive supply |
| 8 | -Vs Supply | Negative supply |
| 9 | Stand-by | Standby control pin used for low power mode, output runs in low current mode |
| 10 | Mute | Audio is disabled of the output |
| 11 | N.C. | Not connected |
| 12 | N.C. | Not connected |
| 13 | +Vs Power | Positive power supply |
| 14 | Out | Output pin |
| 15 | -Vs Power | Negative power supply |
Features
Very High Operating Voltage Range of ±40V
DMOS Power Stage
High Output Power (Up To 100W Music Power)
Muting/Stand-By Functions
No Switch On/Off Noise
No Boucherot Cells
Very Low Distortion
Very Low Noise
Short Circuit Protection
Thermal Shutdown
TDA7294 Electrical Specifications
Maximum VS Supply Voltage (No Signal) ±50 V
Maximum IO Output Peak Current 10 A
Maximum Top Operating Ambient Temperature Range 0 to 70 °C
Maximum Tstg, Tj Storage and Junction Temperature 150 °C
VS Supply Range is minimum ±10 V and maximum value ±40 V
Open Loop Voltage Gain 80 dB
Closed Loop Voltage Gain minimum 24 dB, typically 30 dB and maximum 40 dB
Ib Input Bias Current 500 nA
TDA7294 Equivalent
NTE7165
TDA7294 Alternative
TDA7293, TDA7295, LM3886
Brief Description about TDA7294
The TDA7294 is a monolithic integrated circuit in Multiwatt15 package, intended for use as audio class AB amplifier in Hi-Fi field applications (Home Stereo, self-powered loudspeakers, Top class TV). Thanks to the wide voltage range and to the high out current capability it is able to supply the highest power into both 4W and 8W loads even in presence of poor supply regulation, with high Supply Voltage Rejection. The built in muting function with turn on delay simplifies the remote operation avoiding switching on-off noises.
The TDA7294 is a monolithic MOS power amplifier which can be operated at 80V supply voltage (100V with no signal applied) while delivering output currents up to ±10 A. The metal tab of the TDA7294 is connected to the -Vs pin internally.
Where to Use TDA7294?
TDA7294 can be used in circuits requiring High power and high Efficiency amplification applications.
How to use TDA7294?
R1 is the input resistance and its recommended value is 22k Ω. R2=680 Ω and R3= 22k Ω decides the loop gain of the amplifier. The R4=22k Ω and C4=10µF determines the stand by ON/OFF time duration. The R5=10k Ω and C3=10µF are used for deciding the mute time constant. The input DC
Decoupling used is C1=0.47µF. C2=22mF is the feedback DC. C5=22mF Bootstrapping. C6, C8=1000mF and C7, C9 0.1mF are used for supply voltage bypass.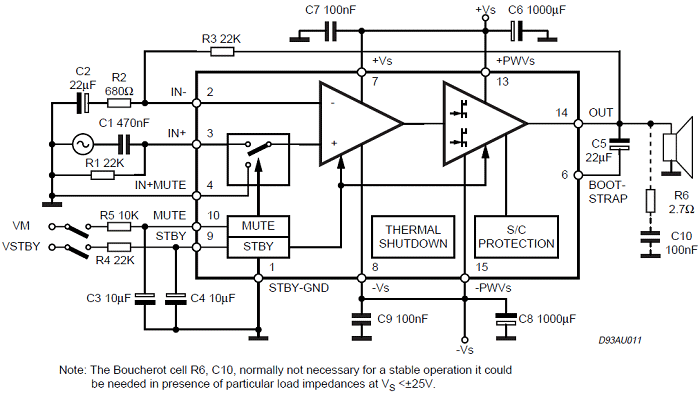 TDA7294 Applications
HI-FI
CAR-RADIO
Bridge Application Circuit
An audio class AB amplifier
Stereos system
Subwoofer
2D Model (Multiwatt15V)