TDA1554 Audio Amplifier
Pin Configuration
| | | |
| --- | --- | --- |
| Pin No. | Pin Name | Description |
| 1. | NINV1 | Non-inverting input 1 |
| 2. | INV1 | Inverting input 1 |
| 3. | GND | Ground (signal) |
| 4. | RR | Supply voltage ripple rejection |
| 5. | VP1 | Positive Input voltage 1 |
| 6. | OUT1 | Output 1 |
| 7. | GND1 | Power Ground 1 |
| 8. | OUT2 | Output 2 |
| 9. | NC | Not connected |
| 10. | OUT3 | Output 3 |
| 11. | GND2 | Power Ground 2 |
| 12. | OUT4 | Output 4 |
| 13. | VP2 | Positive Input voltage 2 |
| 14. | M/SS | Mute/Stand-by switch |
| 15. | NC | Not connected |
| 16. | INV2 | Inverting input 2 |
| 17. | NINV2 | Non-inverting input 2 |
Features
Flexibility in use − Quad single-ended or stereo BTL
High output power
Low offset voltage at outputs (important for BTL)
Fixed gain and Good ripple rejection
Mute/stand-by switch
Protected with Load Dump, Electrostatic Discharge, and Reverse Polarity
AC and DC short-circuit-safe to ground and VP
Thermally protected
Capability to handle high energy on outputs (VP = 0 V)
Low thermal resistance
Identical inputs (inverting and non-inverting)
Requires very few external components
Technical Specification
Supply Voltage Range: 6V to 18V
Output Current: 4A
Stand-by Current: 10uA
Total Quiescent Current: 160mA
DC output offset voltage: 100mV
Input Impedance: 50kΩ to75kΩ
Supply Voltage Rejection Ratio: 48dB
Brief Description
TDA1554 is a 4*11W single ended or 2*22W power amplifier IC, with an integrated Class-B output amplifier. TDA1554Q comes in a 17 lead single-in-line package. The internal circuitry contains a 4*11W single ended or 2*22W bridge amplifier. Among all four amplifiers two are inverting and other two are non-inverting. Also, each amplifier has a gain of 20dB (26dB in BTL). TDA1554q also have mute/stand-by feature.
TDA1554Q is mainly designed for car radio applications.
How to Use?
TDA1554 is an amplifier IC and can be used for designing 2*22 watt and 4*11 watt stereo audio power amplifier circuit. The circuit dissipated nearly 28 watt of heat so a good heatsink is necessary. The circuit operates at 12v and 5 amps at full volume. Reducing the volume lowers the current consumption and less heat will be dissipated.
Now, as we know we can use this IC for 2*22 watt and 4*11 watt stereo audio power amplifier circuit. The connection diagram for both are given below:
2*22 Watt Stereo Audio Power Amplifier Circuit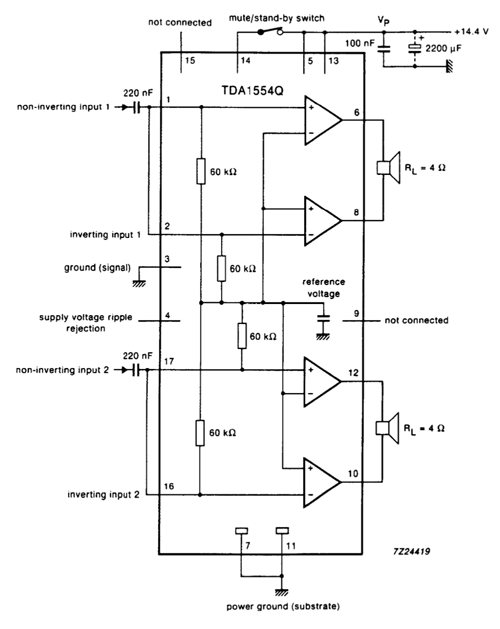 4*11 Watt Stereo Audio Power Amplifier Circuit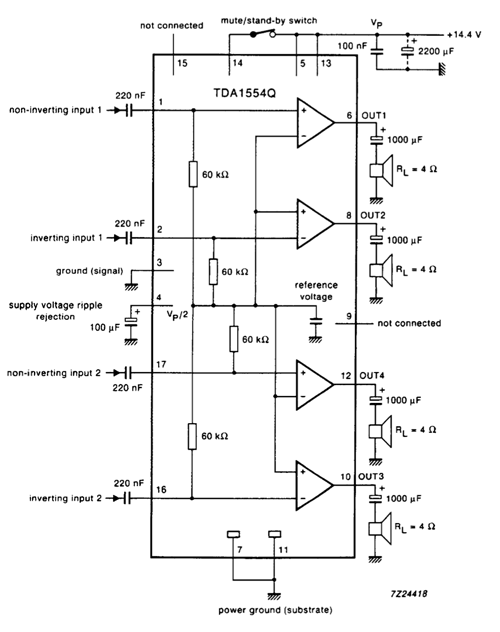 2D-Model