MCP73831T Single-Cell Li-Ion, Li-Polymer Charge Management Controllers
The MCP73831 devices are extremely sophisticated linear charge management controllers for use in situations with limited space and a tight budget. The MCP73831 devices are offered in a 5-Lead SOT-23 configuration. In addition to its tiny physical size, the MCP73831 is well suited for portable applications because of the low requirement for external components. The MCP73831 complies with all the requirements governing the USB power bus for applications charging from a USB port. The charge algorithm used by the MCP73831 is constant-current/constant voltage with configurable preconditioning and charge termination. To meet evolving battery charging needs, the constant voltage regulation is fixed with four options: 4.20V, 4.35V, 4.40V, or 4.50V. One external resistor is used to set the constant current value. The MCP73831 limits the charge current based on die temperature during high power or high ambient conditions. This thermal regulation optimizes the charge cycle time while maintaining device reliability.
MCP73831 Pinout Configuration
| | | |
| --- | --- | --- |
| Pin Number | Pin Name | Description |
| 1 | STAT | Charge Status Output |
| 2 | VSS | Battery Management 0V Reference |
| 3 | VBAT | Battery Charge Control Output |
| 4 | VDD | Battery Management Input Supply |
| 5 | PROG | Current Regulation Set and Charge Control Enable |
MCP73831T Features
Linear Charge Management Controller:

Integrated Pass Transistor
Integrated Current Sense
Reverse Discharge Protection

High Accuracy Pre-set Voltage Regulation
Four Voltage Regulation Options:

4.20V, 4.35V, 4.40V, 4.50V

Programmable Charge Current: 15 mA to 500 mA
Selectable Preconditioning:

10%, 20%, 40%, or Disable

Selectable End-of-Charge Control:
Charge Status Output- Tri-State Output
Automatic Power-Down
Thermal Regulation
Temperature Range: -40°C to +85°C
Packaging: 5-Lead, SOT-23
Absolute Maximum Ratings
VDD: 7.0V
All Inputs and Outputs w.r.t. VSS: -0.3 to (VDD+0.3)V
Maximum Junction Temperature, TJ: Internally Limited
Storage temperature: -65°C to +150°C
ESD protection on all pins:

Human Body Model (1.5kΩ in Series with 100pF): ≥ 4kV
Machine Model (200pF, No Series Resistance): 400V
Other Single Cell Chargers
Note: Complete technical details can be found in the MCP73831 datasheet at this page's end.
How To Use MCP73831?
The schematics below show the typical application diagram of an MCP73831. As mentioned earlier, it only requires a very minimal number of components that include the current programming resistor, status led, and filter capacitors.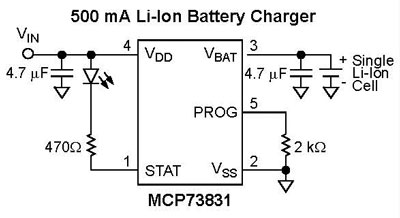 Charge current can be set by placing a programming resistor in between the PROG VSS pins. The program resistor and the charge current are calculated using the following equation: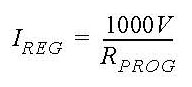 where RPROG = kOhms and IREG = mA
Functional Block Diagram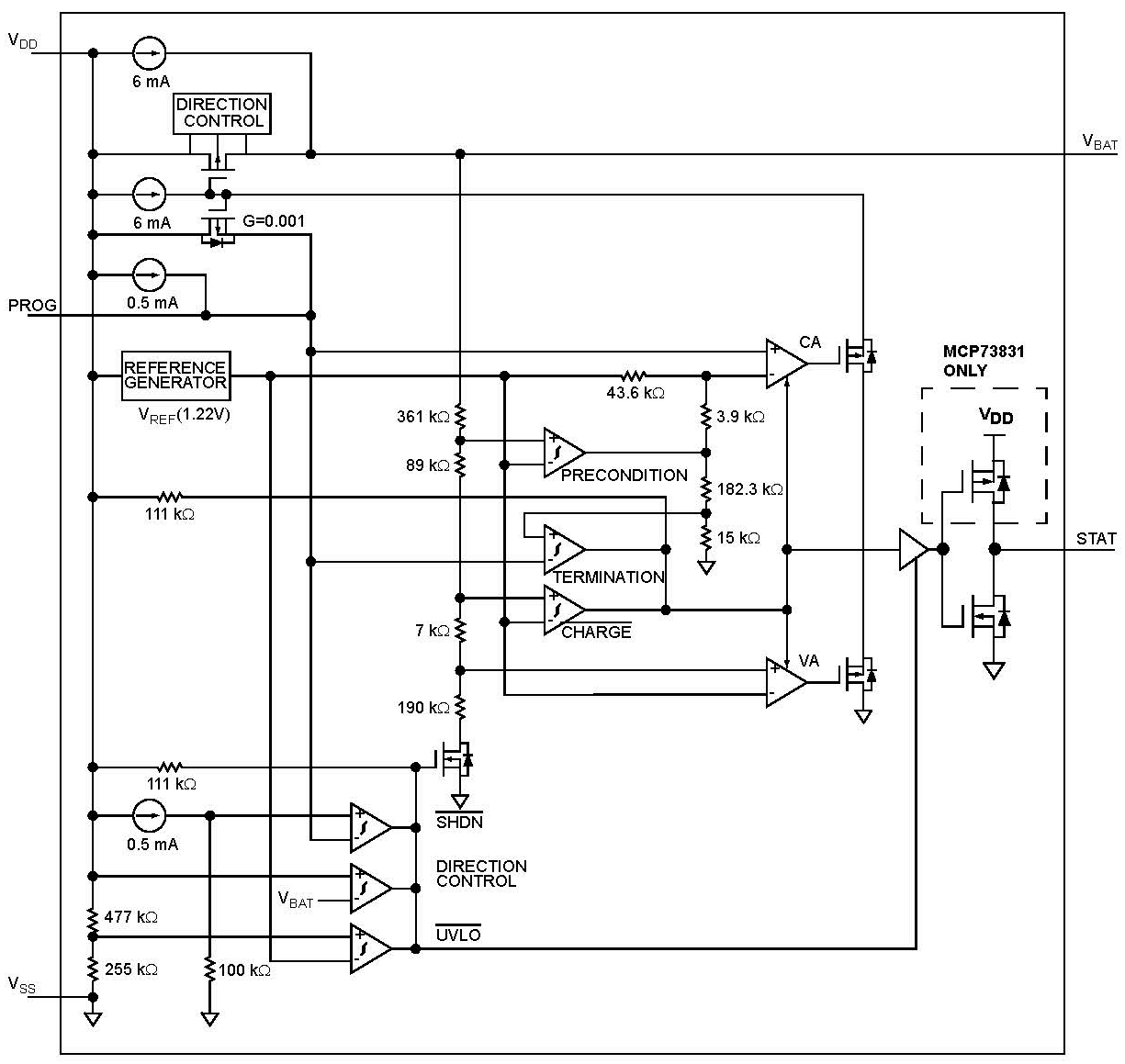 Applications
Lithium-Ion/Lithium-Polymer Battery Chargers
Personal Data Assistants
Cellular Telephones
Digital Cameras
MP3 Players
Bluetooth Headsets
USB Chargers
DC Characteristics
Parameters

Sym

Min

Тур

Max

Units

Conditions

Supply Input

Supply Voltage

VDD

3.75

6

V

Supply Current

Iss

510

1500

μA

Charging

53

200

μA

Charge Complete, No Battery

25

50

μA

PROG Floating

1

5

μA

VDD ≤ (VBAT-50 mV)

-

0.1

2

μA

VDD < VSTOP

UVLO Start Threshold

VSTART

3.3

3.45

3.6

VDD Low-to-High

UVLO Stop Threshold

VSTOP

3.2

3.38

3.5

V

VDD High-to-Low

UVLO Hysteresis

VHYS

70

mV

Voltage Regulation (Constant-Voltage Mode)

Regulated Output Voltage

VREG

4.168

4.2

4.232

V

MCP7383X-2

4.317

4.35

4.383

V

MCP7383X-3

4.367

4.4

4.433

V

MCP7383X-4

4.466

4.5

4.534

V

MCP7383X-5

VDD = [VREG(typical) +1V] OUT = 10 MA TA = -5°C to +55°C

Line Regulation

(▲VBAT/ VBAT/▲VDD)

0.09

0.3

%/V

VDD = [VREG(typical) +1V] to 6V, lOUT = 10 mA

Load Regulation

▲VBAT/VBATI

0.05

0.3

%

OUT = 10 mA to 50 mA VDD = [VREG(typical) +1V]

Supply Ripple Attenuation

PSRR

52

dB

lOUT 10 mA, 10Hz to 1 kHz

47

dB

OUT 10 mA, 10Hz to 10 kHz

22

dB

OUT 10 mA, 10Hz to 1 MHz

Current Regulation (Fast Charge Constant-Current Mode)

Fast Charge Current Regulation

IREG

90

100

110

mA

PROG 10 KS2

450

505

550

mA

PROG= 2.0 KQ, Note 1

12.5

14.5

16.5

mA

PROG= 67 KQ

TA = -5°C to +55°C
2D-Model and Dimensions