TP5100 Lithium Cell Charging Module
The TP5100 is an integrated Lithium battery charger that has a switch mode buck topology. It has all the integrated functions to charge a single or dual cell Lithium battery, along with a few peripheral components.
TP5100 Module Pin Description
| | |
| --- | --- |
| Pin Name | Pin Description |
| VIN+ | Input voltage pin (20V max.) |
| GND | Input ground reference |
| BAT+ | Battery positive output |
| GND | Battery negative |
| CHARGING | LED output to indicate charging |
| GND | LED ground reference |
| CHARGED | LED output to indicate battery charged |
Features
Dual/single Lithium battery charger
Programmable charging current up to 2A
Temperature, overcurrent and undervoltage protection
Trickle, constant current and constant voltage charging
Alternate Charging Modules
TP4056, TP5000
Related Components
TP5100 IC, resistors, capacitors, inductors
Brief About TP5100 Module
The TP5100 charging module consists of a TP5100 IC, an inductor for the integrated switch mode supply, resistors for voltage and current setting and sensing, and capacitors for decoupling.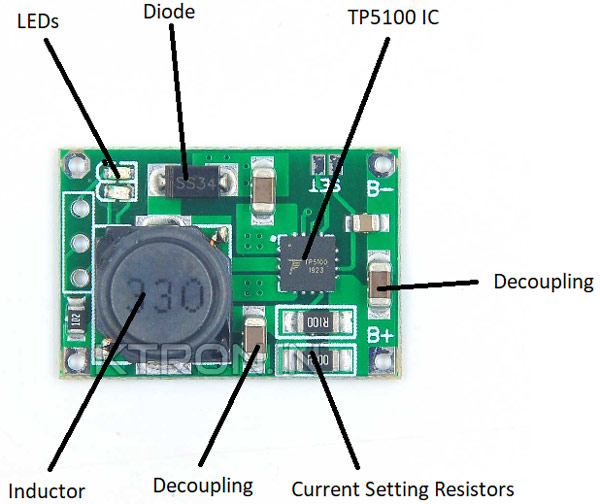 How To Use TP5100 Module
The TP5100 module is an integrated single or dual cell Lithium battery charger. The four power inputs and outputs are IN+, which is the input voltage pin that accepts 5V to 18V, BAT+ which is the battery output and connects to the positive battery terminal, and two GND pins for the input and output. There is also a header for the charging and charged indicator LEDs, with a common center pin.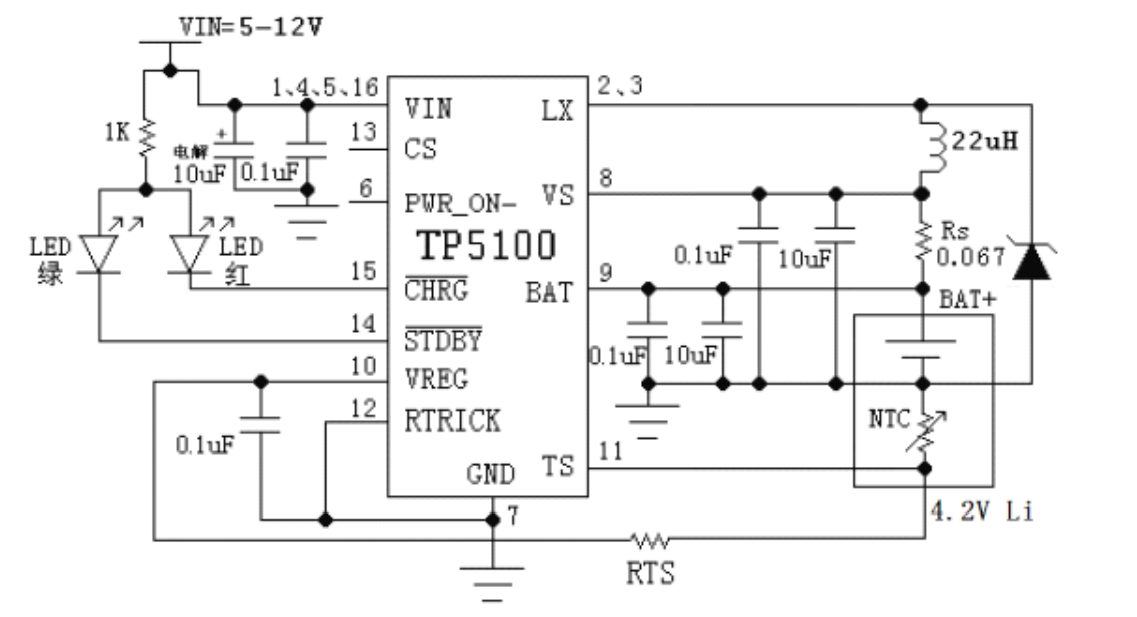 All TP5100 modules have a jumper called 'SET' that sets the output voltage since this module can be used to charge both single and dual cell batteries. Shorting the SET jumper sets the charge voltage to dual cells.
Applications
LiPo battery charger
Solar harvesting systems
Embedded electronics
Battery-powered appliances