BT139 TRIAC
The BT139 is a four-quadrant TRIAC from NXP that can handle medium power switching of loads up to 600V and 16A. With the ability to work in four quadrants, it can switch both positive and negative currents and operate with a positive or negative gate current.
BT139 Pinout Description
| | | |
| --- | --- | --- |
| Pin Number | Pin Name | Description |
| 1 | T1 | Current in/out |
| 2 | T2 | Current in/out |
| 3 | GATE | Controls conduction between T1 and T2 |
| TAB | T2 | Current in/out |
Features
600V breakdown and 16V continuous current capability
Four-quadrant operation
Insensitive gate for noise immunity
TO-220 package with up to 20W power dissipation
Note: Complete technical details can be found in the BT139 datasheet linked at the end of this page.
Other TRIACs:
BTA13x series, BTAxx series, MAC97A
How To Use BT139
Unlike SCRs, which can only operate in one direction, TRIACs can switch loads that are both positive and negative. They are basically two SCRs connected antiparallel with their gates connected.
TRIACs have the advantage of being able to operate in all four quadrants – regardless of the direction of current flow, these can be triggered by either a positive or negative gate current. This feature is particularly useful when switching AC loads, since power can be switched during both the positive and negative half-cycles, doubling the power available to the load compared to an SCR.
Like SCRs, TRIACs can also handle much higher currents than rated for short durations, as seen in the graph of ITSM vs pulse width.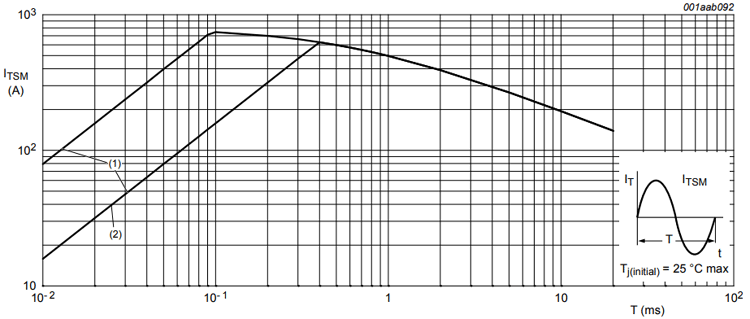 Applications
Motor controllers
AC load switching
Pulse width modulators
Medium power switching
2D Model and Dimensions