VL6180 Time-of-Flight (ToF) Proximity Sensor
The VL6180 is a Time of Flight (ToF) proximity sensor from STMicroelectronics. It features ST's patented FlightSense technology for accurate distance measurement, independent of target surfaces reflectance. The VL6180 uses time taken by the light to travel to the nearest object and reflect back to the sensor for precision measurement. The VL6180 combines both IR emitter and range sensor in a single package. The precision, low power conception, I2C interface and smaller size package makes it one of the best ToF sensor for portable applications.
VL6180 Pinout Configuration
Pin number

Signal name

Signal type

Signal description

1

GPIO1

Digital I/O

Interrupt output. Open-drain. If used, it should be pulled high with 47 k resistor, otherwise left unconnected.

2

NC

No connect

3

NC

No connect

4

GPIO0/CE

Digital I/O

Power-up default is chip enable (CE). It should be pulled high with a 47k resistor.

5

SCL

Digital input

I2 C serial clock

6

SDA

Digital I/O

I2 C serial data

7

NC

No connect

8

AVDD_VCSEL

Supply

VCSEL power supply. 2.6 to 3.0 V

9

AVSS_VCSEL

Ground

VCSEL ground

10

AVDD

Supply

Digital/analog power supply. 2.6 to
3.0 V

11

NC

No connect

12

GND

Ground

Digital/analog ground
Features
Two-in-one smart optical module

VCSEL light source

Proximity sensor

Fast, accurate distance ranging

Measures absolute range from 0 to 62 cm max (depending on conditions)

Independent of object reflectance

Ambient light rejection

Crosstalk compensation for cover glass

Gesture recognition

Distance and signal level can be used by host system to implement gesture recognition.

Demo systems (implemented on Android smartphone platform) available.

Easy integration

Single reflowable component

No additional optics

Single power supply

I2C interface for device control and data

Provided with a documented C portable API (Application Programming Interface)

Two programmable GPIO

Window and thresholding functions for ranging
Alternative for VL6180
Note: Complete technical details can be found in the VL6180 datasheet at this page's end.
VL6180 Block Diagram
The following image shows the internal block diagram of VL6180.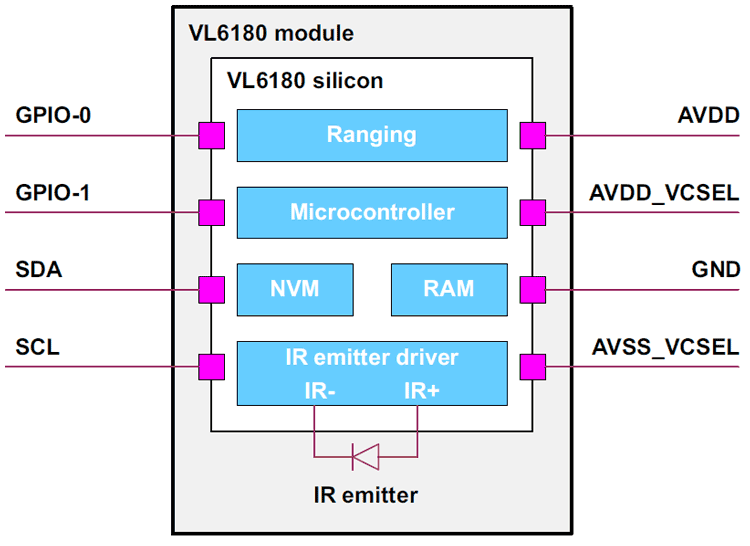 VL6180 Application Circuit Diagram
The following image shows the typical application circuit for the VL6180.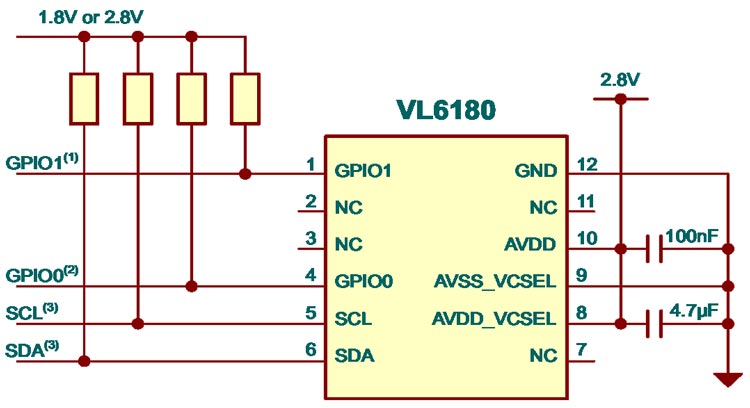 100nF decoupling capacitor is connected to the power supply pins. Propper pullup resistors are connected to the I2C lines. For the open drain GPIOs a pullup resistor of 47K is recommended. If not pulled high leave these GPIO pins floating. A 47K pullup resistor is also needed to be added to the CE pin.
Ranging
The VL6180 uses a simple pipe architecture to achieve range measurement. The following image illustrates this said architecture.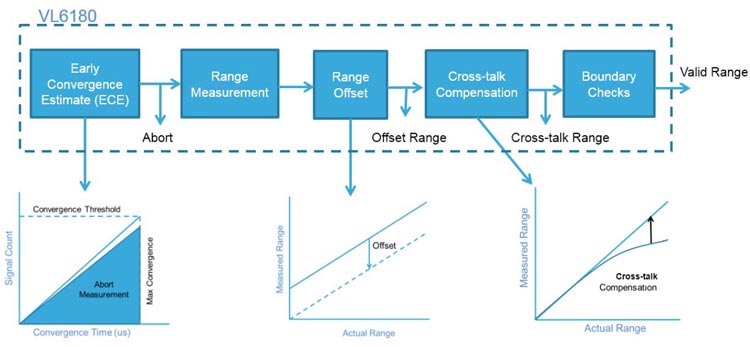 APPLICATIONS
Laser Assisted Auto Focus

Smartphones/portable touchscreen devices

Tablet/laptop/gaming devices

Domestic appliances/industrial devices
2D-Model and Dimensions
Below is the 2D CAD drawing of VL6180 along with its dimensions in millimetres. The dimensions can be used to create custom footprints of the module and be used for PCB or CAD modeling.