LM335 Temperature Sensor
Pin Configuration
| | | |
| --- | --- | --- |
| Pin No. | Pin Name | Description |
| 1 | Adj | Calibration adjust pin |
| 2 | + | Positive Input/ Output pin |
| 3 | - | Negative output/ Ground |
Features
Cheap and Easy to Calibrate
Dynamic Impedance is less than 1 ohms.
200 °C Over range
1°C Initial Accuracy Available
Directly calibrated to kelvin temperature scale
Operating current range 400uA to 5mA
Technical Specification
Reverse Current: 15mA
Forward Current: 10mA
Operating Output Voltage: 2.95V to 3.01V
Temperature Error (at 25°C): 2°C (max)
Thermal Resistance: 202°C/W
Specified Temperature Range: -40 to 100°C
Storage Temperature Range: -60 to 150°C
Note: Complete technical details can be found in the LM335 Datasheet linked at the bottom of this page.
Equivalent to LM335
LM135, LM135A, LM235, LM235A,
Brief Description
LM335 sensor is precision temperature sensor which can be easily calibrated. It has a breakdown voltage directly proportional to absolute temperature at 10mV/°K. LM335 has a low dynamic impedance. It can be used for any type of temperature sensing in range of -40°C to 100°C.
Internal Diagram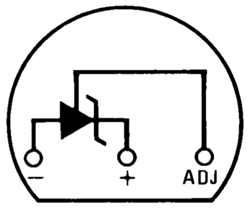 How to Use?
Using a LM335 sensor is easy, just connect the circuit as per the below circuit diagram. There are two ways to use LM335 sensor, one is as basic temperature sensor and another is calibrated. To calibrate LM335 connect the ADJ pin to a 10K Potentiometer and adjust accordingly. When LM335 calibrated at 25°C, it has typically less than 1°C error over 100°C. It gives a linear output.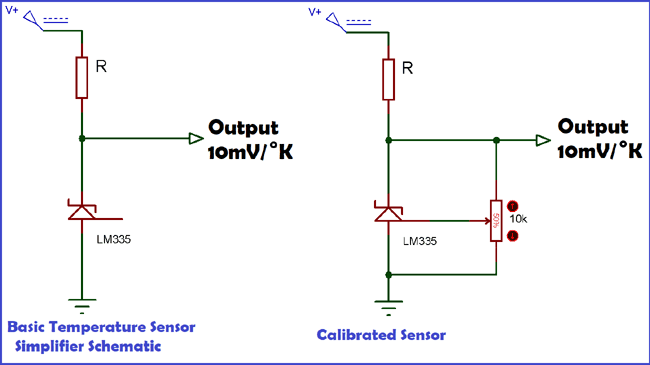 Application
Power Supplies
Battery management
HVAC
Appliances
2D-Model and Dimensions