XC6206 Low ESR Voltage Regulator
XC6206 is a highly precise voltage regulator with low power consumption (1.0 µA) and low dropout voltage of 250 mV at 100 mA. Maximum operating voltage for XC6206 is 6.0 V and output voltage range is 1.2 V to 5 V. This regulator provides large current with a significantly small dropout voltage.
| | | |
| --- | --- | --- |
| Pin No. | Pin Name | Description |
| 1 | VSS | Ground Pin |
| 2 | Vin | Regulated Voltage Input |
| 3 | Vout | Regulated Voltage Output |
Features
Input Supply Voltage: 1.8 V to 6V

Output Voltage: 1.2 V to 5V

Continuous Output Current: 200 mA

Drop-out Voltage: 250 mV at 100 mA

Power Consumption: 1.0 µA

Operating Ambient Temperature: -40℃~ +85℃

Available in SOT-23, SOT-89, USP-6B Packages
Note: The Complete Technical Details can be found at the XC6206 datasheet given at the end of this page.
Equivalent for XC6206: XC6216
Alternative LDO Regulators: AMS1117, MIC5225, MIC5205
XC6206 Introduction
XC6206 is a low ESR capacitor compatible positive LDO voltage regulator from Torex semiconductor. The XC6206 series are highly precise, low power consumption, 3 terminal, positive voltage regulators manufactured using CMOS and laser trimming technologies. XC6206 voltage regulator has a current limiter circuit, a driver transistor, a precision reference voltage and an error correction circuit. Maximum operating voltage for XC6206 is 6V while the output voltage range is 1.2 V to 5 V.
How to use the XC6206
Using XC6206 is very simple as we have to connect only three pins. Vin pin of XC6206 is connected to input supply voltage through a 1 µf ceramic capacitor. Ceramic capacitor is used to reduce the input noise. VSS pin is connected to ground and regulated output is obtained from the Vout pin. The application circuit for XC6206 is given below.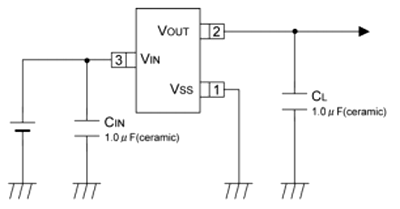 Applications
Smart phones / Mobile phones

Portable game consoles

Digital still cameras / Camcorders

Digital audio equipments

Reference voltage sources

Multi-function power supplies
2D-Model (SOT-23)