MCP1702: 250 mA Low Quiescent Current LDO Regulator
MCP1702 is low dropout voltage regulator that can deliver up to 250 mA of current while consuming only 2.0 µA of quiescent current and it has a low dropout voltage of 650mV. The input operating range for MCP1702 is from 2.7V to 13.2V and output voltage range from 1.2V to 5V.
Pin Configuration
| | | |
| --- | --- | --- |
| pin no. | Pin Name | Description |
| 1 | GND | Ground Pin |
| 2 | Vin | Regulated Voltage Input |
| 3 | Vout | Regulated Voltage Output |
Features
Input Supply Voltage: 2.7V to 13V

Output Voltage: 1.2 V to 5V

Continuous Output Current: 250 mA

Drop-out Voltage: 625 mV at 250 mA

Quiescent Current: 2.0 µA

Available in SOT-23A, SOT-89-3, and TO-92 Packages
Note: The Complete Technical Details can be found at the datasheet given at the end of this page.
Equivalent for MCP1702: MCP1703, MCP1825, LM317
Alternative LDO Regulators: AMS1117, MIC5225, MIC5205
MCP1702 Introduction
The MCP1702 is a Low Drop Out voltage regulator from Microchip. It is a family of CMOS low dropout (LDO) voltage regulators that is capable of regulating voltage efficiently with a low voltage drop of 625mV and can provide output voltage almost close to the input voltage. The output voltage tolerance of the MCP1702 is typically ±0.4% at +25°C and ±3% maximum over the operating junction temperature range of -40°C to +125°C. Line regulation is ±0.1% typical at +25°C and Load regulation is ±1.0. MCP1702 is generally used in Battery-powered Devices.
How to use the MCP1702
MCP1702 low dropout regulator comes in 3-pin package. It is most commonly used as a voltage regulator. Its low quiescent current and low dropout voltage makes it ideal for many battery-powered applications. Using MCP1702 as a voltage regulator is pretty simple. Connect the Vin pin to the power source and GND pin to ground. The regulated output can be obtained at the Vout pin. Output voltage range for MCP1702 is 1.2V to 5V. 1µf ceramic capacitor is used for LDO output stability.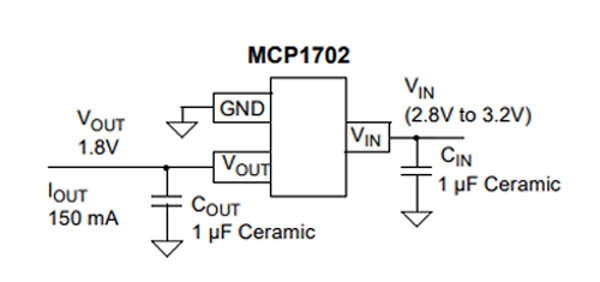 Applications
Battery-powered Devices

Battery-powered Alarm Circuits

Smoke Detectors

Pagers and Cellular Phones

Smart Battery Packs

Low Quiescent Current Voltage Reference

Digital Cameras

Microcontroller Power

Solar-Powered Instruments
2D-Model (TO-92)