VSC8541RT and SAM3X8ERT – Radiation-tolerant Ethernet Transceiver and Embedded Microcontroller for Space Applications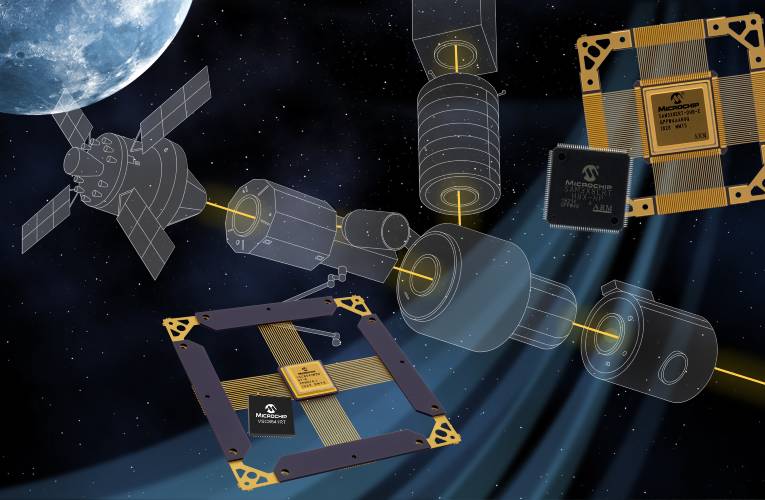 Microchip Technology Inc. has introduced VSC8541RT and SAM3X8ERT space-qualified Commercial Off-the-Shelf (COTS)-based radiation-tolerant Ethernet transceiver and Microcontroller. The microcontroller is the latest Arm Cortex-M3 core processor and embedded Ethernet controller from Microchip Technology and it is designed to support industry demand for radiation-tolerant devices separately or in combination.
Features of Ethernet Transceiver (VSC8541RT)
The device is a single-port Gigabit Ethernet copper PHY with GMII, RGMII, MII, and RMII interfaces.

No Single-Event Latch-up Below a LET Threshold of 78 MeV.cm2 /mg @125°C

Total Ionizing Dose is 100 krad(Si)

VQFN68, 68-lead VQFN, 8 mm x 8 mm body size, 0.4 mm pin pitch and 0.9 mm maximum height.

CQFP68, 68-lead CQFP, 13.05 mm x 13.05 mm body size, 0.635 mm pin pitch, and 3.68 mm maximum height.
Features of Microcontroller (SAM3X8ERT)
ARM Cortex-M3 revision 2.0 running at up to 84 MHz

Delivers 100 DMIPS benefits from the same ecosystem as the industrial variant.

No Single Event Latch-Up Below a LET Threshold of 62 MeV.cm2 /mg @ 105°C

Embeds up to 512 Kbytes Dual Bank Flash, 100 Kbytes SRAM, ADC & DAC, and dual CAN controller on top of Ethernet capability.

Total Ionizing Dose is 30 krad(Si)

CQFP144, 144-lead CQFP, 22 x 22mm, pitch 0.5 mm

LQFP144, 144-lead LQFP, 20 x 20mm, pitch 0.5 mm
Note: The complete specifications can be found in the datasheet linked at the bottom of this page.
Both the devices share the same pin-out distribution, allowing designers to begin implementation with COTS devices before moving to space-grade components, it reduces the development time and cost. These devices have enhanced levels of radiation performance and high-reliability quality flow. These devices can be used in satellite platforms, payloads for data and sensor bus control, remote terminal communication, space vehicle networks, and module connectivity in space stations.
VSC8541RT and SAM3X8ERT are available in both plastic and ceramic packages, range from QFP144 packages for SAM3X8ERT to CQFP68 packages for VSC854xRT. For more information about VSC8541RT and SAM3X8ERT, visit the official website of Microchip Technology Inc.