VIPer26K Converter Features High MOSFET Breakdown Voltage 1050V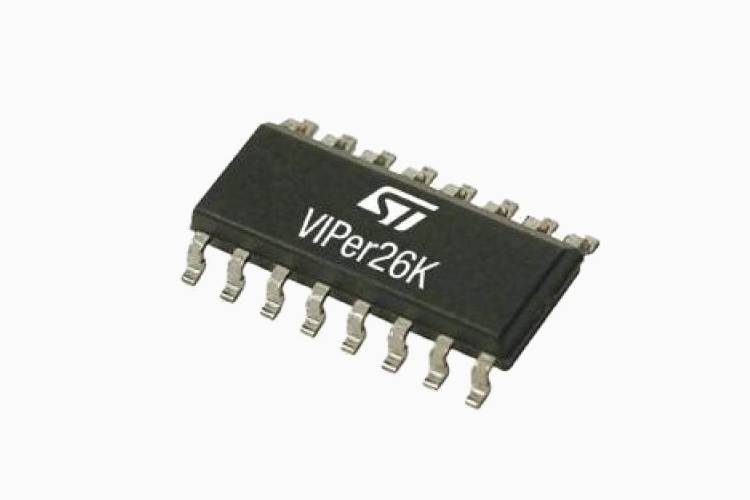 The STMicroelectronics launched VIPer26K high-voltage converter comprises a 1050V avalanche-rugged N-channel power MOSFET that allow offline power supplies to combine a wide input-voltage range with the advantages of a simplified design. The VIPer26K MOSFET comes with buit-in Drain current-limit protection and features a senseFET connection for over-temperature protection. The VIPer26K MOSFET offers high voltage rating which eliminates the need for conventional stacked FETs and also associated passive components to achieve similar voltage capability.
The VIPer26K MOSFET comes with a built-in error amplifier, high-voltage startup circuitry, and current-mode PWM controller all integrated on-chip which makes it support all common switched-mode power supply topologies, including isolated flyback with secondary-side or primary-side regulation, non-isolated flyback with resistive feedback, buck, and buck-boost converters. The VIPer26K offers highest MOSFET breakdown voltage along with a complete set of integrated features making it an ideal solution for applications such as power supplies for 1-phase and 3-phase smart energy meters, air-conditioners, 3-phase industrial systems and LED lighting.
VIPer26K MOSFET's Specifications:
Operating Voltage Range: 11.5 V – 23.5 V
Fixed Switching Frequency: 60 kHz
Drain Current limit Protection: (-500) – (-700)mA
VDRAIN : 1.05 KV Max
IDRAIN : 3A Max
Modulating Frequency: 240 Hz
Soft Time Start(Tss ) : 8.5 ms
Standby Power: <30mW at 230 VAC
VIPer26K MOSFET's  Features:
1050 V avalanche-rugged power MOSFET
allowing ultra-wide VAC input range to be covered
Embedded HV startup and sense-FET
Current mode PWM controller
Safe auto-restart after a fault condition
Hysteretic thermal shutdown
Built-in soft-start for improved system reliability
VIPer26K MOSFET's  Applications:
LED Lightings
Air-Conditioners (ACs)
Industrial Systems
Power Supply for Smart Energy Meters
The VIPer26K comes in SO-16N package and is in production now priced from $0.64 for 1000-piece orders.