TCKE712BNL – Advanced eFuse IC with Adjustable Over-Voltage Protection for Consumer Electronics Goods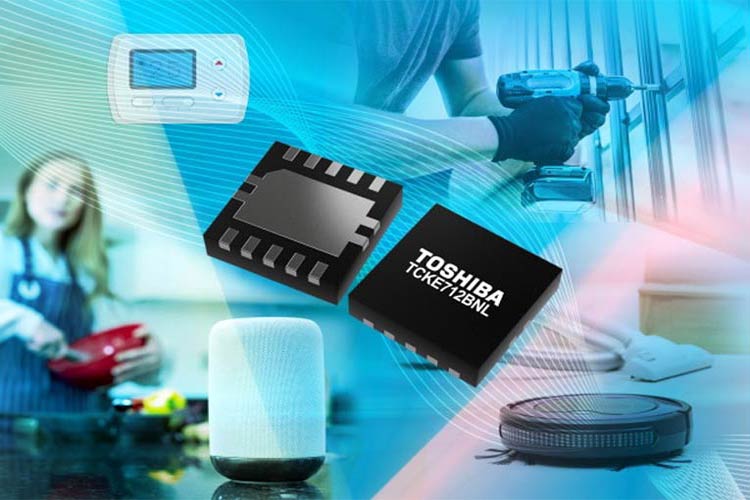 With the introduction of the TCKE712BNL, Toshiba Electronics has expanded its advanced eFuse IC portfolio allowing users to maintain a high degree of safety in consumer electronics devices. Unlike conventional glass tube and chip fuse that breaks with excessive current, the eFuses can be used repeatedly. With a faster responsive trip time of only 320ns and a greater breadth of built-in protection functions, the TCKE712BNL offers 53mΩ on-resistance at an input voltage range spanning from 4.4V to 13.2V. It is possible to adjust this device's over-voltage threshold to fit with the specific application requirements.
The TCKE712BNL can be used in a wide variety of consumer electronics goods such as cameras, cordless cleaner, and power tools, cleaning robots, servers, smart, speakers, thermostats, and wireless chargers, etc. Delivered in a compact WSON10 package measuring just 3.00mmx3.00mm, the TCKE712BNL eFuse offers over-current, over-temperature, and short-circuit protection mechanisms. 
The eFuse comes with a flag function that transmits an external signal for indicating possible faults in the circuit design that can be addressed early on in the development process. The reverse current blocking feature allows the eFuse to be used in multiplexed systems.
Features of TCKE712BNL eFuse
High input voltage: VIN max = 13.2 V

 

Low ON resistance: RON = 53 mΩ (typ.)

Adjustable over current protection

Adjustable over-voltage protection

Programmable Slew rate control by External Capacitance for Inrush current reduction

FLAG indicates

Reverse current blocking (SW OFF state)

Thermal Shutdown
Note: More technical information can be found in the TCKE712BNL eFuse Datasheet linked at the bottom of this page and on the TCKE712BNL eFuse product page.