STNRGPF12 - Flexible Digital Power-Factor Controller for Industrial Applications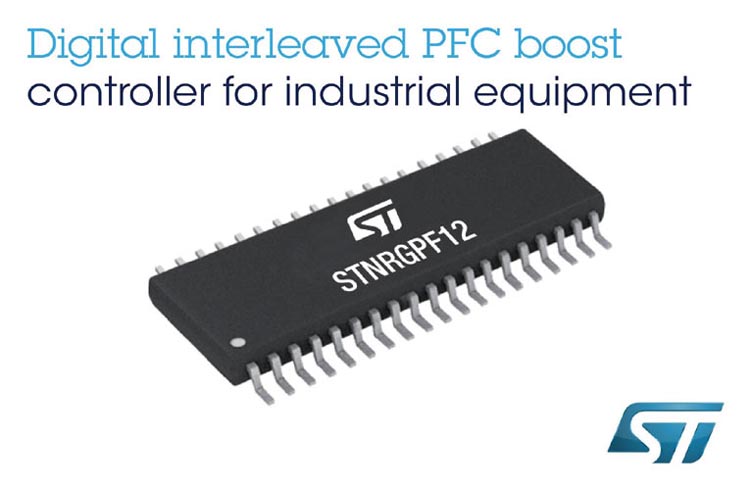 STMicroelectronics has launched STNRGPF12 dual-channel digital interleaved boost-PFC controller combined with the flexibility of digital power with the responsiveness of analog algorithms. The STNRGPF12 is easily configured and optimized using the STM's eDesignSuite software. The STNRGPF12 is well suited for applications over 600W and improves efficiency and reliability in equipment as diverse as industrial motor controls, uninterruptable power supplies, charging stations, welding machines, 4G and 5G base stations, home appliances, telecom switches, and data-center power supplies.
The STNRGPF12 features digital inrush-current limiting, which takes benefit of silicon controlled rectifiers (SCR) in the high-side switching circuitry to enable soft-start management and improves system robustness. The STNRGPF12 operates CCM (continuous-conduction mode) at fixed frequency with average-current-mode control. The STNRGPF12 also offers load feed-forward, current balancing, phase shedding, and fan control. Along with this, the integrated UART grants access to non-volatile memory for user configuration of PFC parameters to meet specific application needs and allows monitoring of parameters in the field.
Specifications of STNRGPF12:
Program memory: 32 Kbytes flash
Data retention from Program Memory: 15 years at 85 °C after 10k cycles at 25 °C
Data memory: 1 Kbyte true data EEPROM
Data retention from data memory: 15 years at 85 °C after 100k cycles at 85 °C
RAM: 6 Kbytes
Communication interfaces: UART asynchronous protocol for bootloader support and monitoring of the PFC parameters
Operating temperature: -40 °C up to 105 °C
Features of STNRGPF12:
Digital inrush current limiter function
Interleaved PFC digital controller
Suitable for >600 W applications
Configurable driver by means of dedicated graphic tool
Channel current balance function
Customizable firmware
For development and design, the users can utilise the maximum potential of the STNRGPF12 by leveraging ST's extensive ecosystem, which includes the STEVAL-IPFC12V1 dual-channel 2kW interleaved PFC reference design along with the configuration software.
Production of STNRGPF12 has started and it will be available in TSSOP8 package from $2.40 for orders of 1000 pieces.