STM32WB5MMG - STM32 Wireless MCU Module for Increasing Design Productivity of BLE and IoT Devices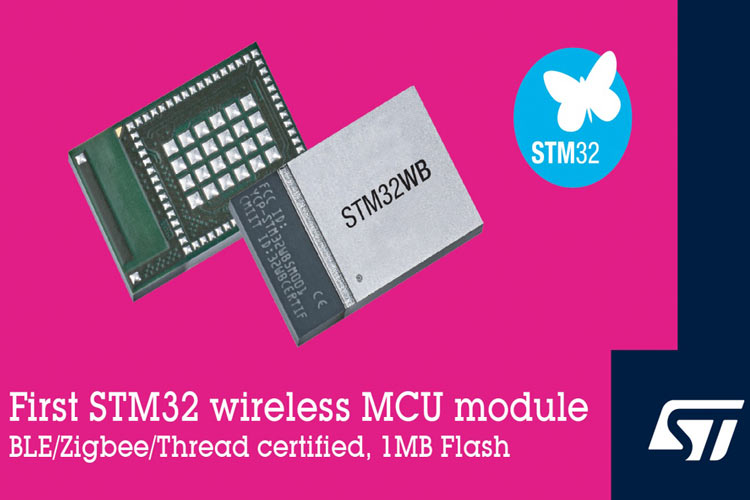 STMicroelectronics has introduced a miniature ready-to-use STM32 wireless microcontroller (MCU) module for faster introduction of new Bluetooth LE and 802.15.4 based IoT devices. This new 7mm x 11.3mm STM32WB5MMG module enables developers to build connected devices without needing wireless-design skills. Made to enable low-cost PCB technology requiring a minimal number of layers, the module integrates everything up to the antenna. Moreover, the crystal-less USB full-speed connectivity helps in reducing the bill-of-materials costs and also simplifies the hardware design.
The module also supports ST's novel concurrent dual-protocol mode that lets any protocol based on IEEE 802.15.4 radio technology, including Zigbee 3.0 and OpenThread, connect the user directly to any Bluetooth Low Energy device. The devices are protected by various software updates like Over-The-Air (OTA) for brand protection and device integrity, customer key storage, and Proprietary Code Readout Protection (PCROP) to protect developers' intellectual property and Public Key Authentication (PKA) support for cryptographic protection of code and connections.
The device has been designed to support a large variety of smart-home, smart-building, and smart factory equipment. Users can leverage the MCU's dual-core architecture that separates radio and application-level processing for unimpeded performance, large memories for radio and application code and data storage, and state-of-the-art cybersecurity.
Features of STM32WB5MMG Wireless Microcontroller
Bluetooth Low Energy 5.0, Zigbee 3.0, OpenThread certified

TX output power up to +6 dBm

RX sensitivity: -96 dBm (Bluetooth Low Energy at 1 Mbps), -100 dBm (802.15.4)

1-Mbyte Flash memory, 256-Kbyte SRAM

1.8 V to 3.6 V VDD range

-40 °C to 85 °C temperature range

Dedicated Arm Cortex-M0+ for radio and security tasks

Dedicated Arm Cortex-M4 CPU with FPU and ART (adaptive real-time accelerator) up to 64 MHz speed
Note: More technical information can be found in the STM32WB5MMG datasheet linked at the bottom of this page and on the STM32WB5MMG wireless microcontroller product page.