STM32H7xx – New ARM Cortex M7 Microcontrollers with High Memory Density and Power Saving Options for Smart Device Applications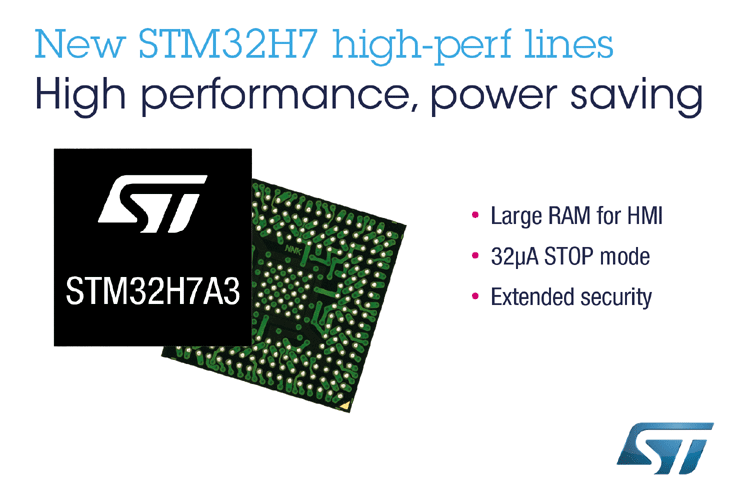 STMicroelectronics had introduced three new value line microcontrollers (MCUs) namely, STM32H7A3, STM32H7B3 and STM32H7B0. The new MCUs combine 280MHz Arm® Cortex®-M7 core performance, high memory density, and power savings for future generations of smart objects. Because of low power consumption and economical 64-pin QFP package, the new MCUs boost integration and real-time performance to handle advanced functionalities like rich user interfaces, natural language interaction, RF mesh networking, and Artificial intelligence (AI).
Features of STM32H7xx Microcontrollers
Enhanced supports for embedded graphics up to 1.4Mbyte RAM

Include an Arm® Cortex®-M7 core (with double-precision floating-point unit) running up to 280 MHz.

Advanced user interfaces on display resolutions up to HVGA with 24-bit color without external SRAM

High CPU performance and Flash density

Packed in 4.57mm x 4.37mm wafer-level chip-scale package (WLCSP)

120 µA/MHz typical @ VDD = 3.3 V and 25 °C in Run mode (peripherals off) and SMPS

32 µA typical in STOP mode (low-power mode)

2.2 µA typical in Standby mode (low-power mode)

280 MHz CPU/, 1414 CoreMark /599 DMIPS executing from Flash memory, with 0-wait states thanks to its L1 cache
Note: Complete technical details can be found in the STM32H7A3 Datasheet linked at the bottom of this page.
As AI pervades embedded devices, the new STM32H7 MCUs deliver the power efficiency needed for machine-learning applications and the performance to support future generations of neural networks. For IoT applications that require more security, the state-of-the-art cyber-protection includes secure boot / Root-of-Trust and hardware cryptographic/hash accelerators. On the fly decryption (OTFDEC) extends protection to code stored in external serial memories by allowing encrypted content to be decrypted in real-time.
The dual power domains enable flexible power management and voltage scaling enables optimum efficiency in the run and stop modes. The new STM32H7 high-performance devices feature-rich digital-communication interfaces and up to two octal SPI external memory interfaces. There is also an RGB interface for up to XGA displays, ST's Chrom-ART Accelerator™ that offloads the CPU from 2D graphics operations, the Chrom-GRC™ optimizes support for non-rectangular displays, and hardware JPEG codecs.
The sample of STM32H7A3 and STM32H7B3 are now available for purchase, for more information about STM32H7A3, STM32H7B3, and STM32H7B0, visit the official website of STMicroelectronics.