SCM1733ASA – Current Mode PWM Controller with <75mW Standby Consumption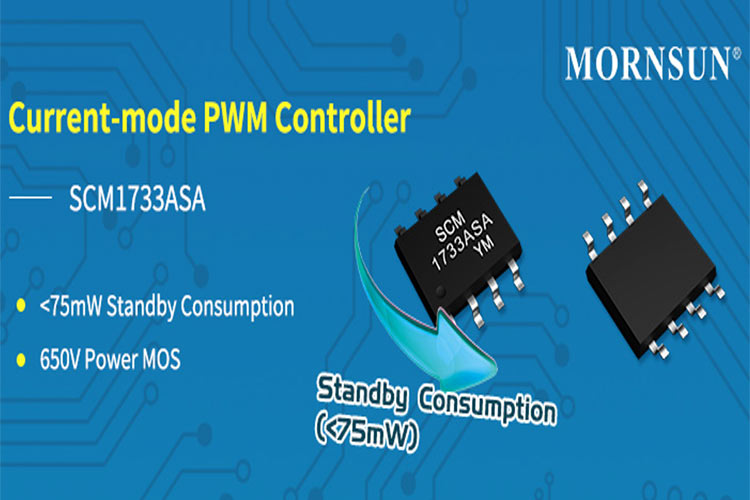 MORNSUN has introduced the SCM1733ASA, a new current mode PWM controller that could be used in wider application range at a lower price. The new controller can be applied to small and medium power flyback AC/DC converter with ultra-low standby consumption of <75mW, a maximum output power of 20W, built-in high-voltage MOS, and better price-performance.
When the ACDC IC is fully loaded the PWM switching frequency is fixed, when the load is reduced IC goes to the green mode and the switching frequency steps down and when it is on no-load or light load the IC is switched to intermittent mode to reduce consumptions. Multiple control modes can also provide soft start control and reduce MOS stress and frequency jitter control to obtain good EMI. The frequency of intermittent mode is higher than 22KHz without audio noise.
The SCM1733ASA is best suitable to be used in applications such as AC/DC adapter,set-top box power supply, auxiliary power supply, open switching power supply, etc.
Features of SCM1733ASA PWM Controller
Extra Low Standby consumption

Low VDD Startup and Operating

 

Current

Built-in 650V Power MOS

Fixed 65KHz switching frequency

Built-in leading-edge blanking and slope compensation

Power-on soft start for reducing MOS stress

EMI frequency jitter for Softened EMI Signature

 

Audio Noise Free Operation

OCP Cycle –by- cycle Over Current Limiting

Has Low starting current for reliable startup and achieving low consumption

VDD under-voltage lockout with Hysteresis(UVLD), Over Load Protection (OLP) Over Temperature Protection(OTP), VDD Over Voltage Protection(OVP), and Output short circuit protection.
Note: More technical information can be found in the datasheet linked at the bottom of this page and on the SCM1733ASA product page.