New UVC Emitting Diodes in Ceramic/Quartz-Based Package Offer Higher Radiant Power at a Lower Cost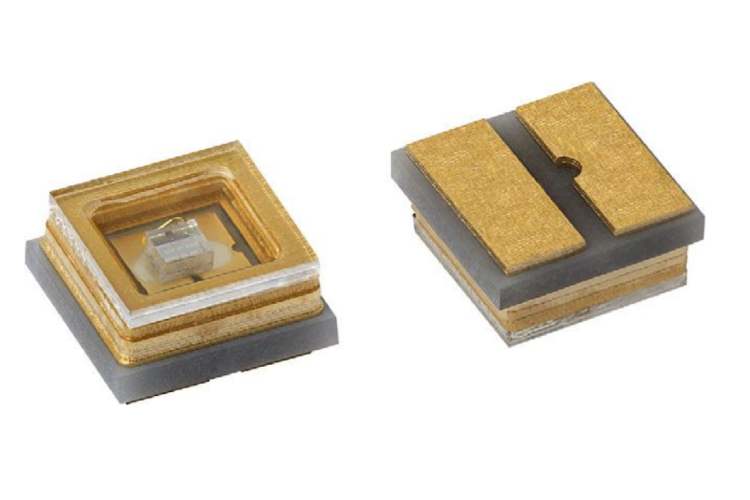 Vishay Intertechnology, Inc. has introduced two new UVC (short wavelength ultraviolet) emitting diodes that deliver higher radiant power at a lower cost while offering higher disinfection efficiency and longer service life. The new VLMU35CR40-275-120 and VLMU35CR41-275-120 diodes are available in a ceramic/quartz-based package and are suitable for sterilization in medical, industrial, and consumer applications. Built on AlGaN technology, these devices are designed to replace low-pressure UVC mercury tubes, especially in compact designs where small components are required.
These devices feature high typical radiant power of 37 mW at 250 mA, DC forward current up to 300 mA, forward voltage down to 5.2 V, and an emission angle of ± 60°. These diodes offer a wavelength range of 265 nm to 280 nm, with a typical wavelength of 274 nm, and are compatible with reflow soldering processes. Available in a compact, thermally optimized surface-mount 3.45 mm by 3.45 mm by 1.7 mm package with a ceramic substrate and quartz window, the devices ensure a long service life of 27 000 hours at 250 mA and 25 °C.
Features
Ceramic SMT package with quartz window

Dimension (L x W x H) in mm: 3.45 x 3.45 x 1.7

DC forward current: up to 300 mA

Radiant power (typ.): 37 mW at 250 mA and 30 mW at 190 mA

Leads / terminations finish: gold plated (Au)

Reflow soldering method

MSL 3 according to J-STD-020
Applications
Sterilization - water, air, and surfaces

Medical application

Sensing of gases, germs, DNA
Availability & Pricing
Samples and production quantities of the new UVC emitting diodes are now available with lead times of eight to 16 weeks. Pricing for U.S. delivery starts at $4.50 per piece for the VLMU35CR40-275-120 and $4.80 per piece for the VLMU35CR41-275-120 in 1000-piece quantities.