New Radiation-Hardened Plastic Portfolio for MEO and GEO Applications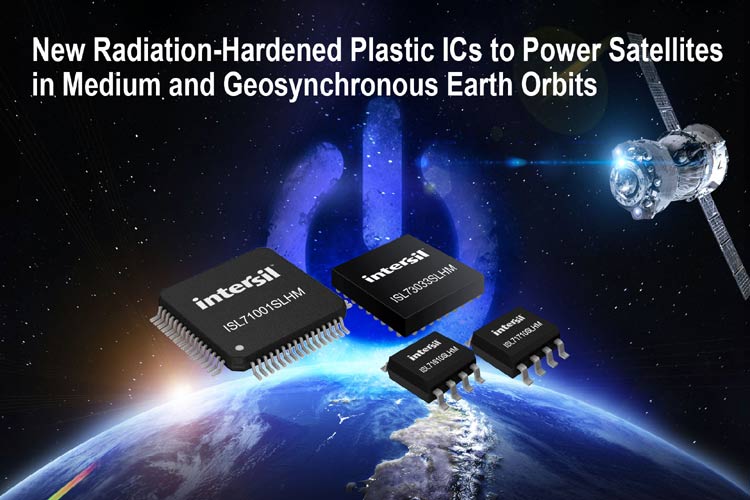 Renesas Electronics Corporation has launched a new line of plastic-packaged radiation-hardened devices for satellite power management systems. The four new devices include the ISL71001SLHM/SEHM point of load buck regulator, ISL71610SLHM and ISL71710SLHM digital isolators, and the ISL73033SLHM 100V GaN FET and integrated low-side driver. This new portfolio brings space-grade solutions to missions in medium/geosynchronous Earth orbit (MEO/GEO) with longer lifetime requirements, and small satellites (smallsats) and higher density electronics, while reducing size, weight, and power (SWaP) costs. These ICs will help customers to reduce their electronics footprint and cost without compromising performance.
The ISL71001SLHM is a radiation hardened and high efficiency monolithic synchronous buck regulator with integrated MOSFETs. This single chip power solution operates across an input voltage range of 3V to 5. 5V and provides a tightly regulated output voltage that is externally adjustable from 0.8V to ~85% of the input voltage with an output load current capacity of 6A. The ISL71001SLHM uses peak current-mode control for excellent output load transient response and features integrated compensation and switches at a fixed frequency of 1MHz to reduce component size and count.
The ISL71610SLHM is a passive-input digital signal isolator with a CMOS output. It has a similar interface but better performance and higher package density than other optocouplers. The ISL71610SLHM is manufactured with Giant Magnetoresistive (GMR) technology for small size, high speed, and low power. A series external resistor sets the input coil current and a capacitor in parallel with the current-limiting resistor provides improved dynamic performance.
The ISL73033SLHM is a radiation hardened 100V GaN FET with integrated Low-Side GaN FET driver. The GaN FET are capable of providing up to 45A output and have a RDSON as low as 7.5mΩ. The integrated Low-Side GaN FET driver has a supply range from 4.5V to 13.2V and can accept logic levels up to 14.7V, regardless of supply voltage. The ISL73033SLHM has propagation delay of 42ns, enabling high switching frequency for better power conversion efficiency. 
Features of ISL71001SLHM/SEHM Buck Regulator
6A synchronous POL regulator enables high power conversion efficiency in a smaller package

Highly efficient: 95% peak efficiency

Fixed 1MHz switching frequency

Adjustable output voltage
Features of ISL71610SLHM and ISL71710SLHM Digital Isolators
Giant Magneto Resistive (GMR) isolation technology delivers better radiation tolerance compared with existing space grade optocouplers on the market

2.5kVRMS Isolation

Up to 100Mbps data rates for the ISL71610SLHM and 150Mbps for the ISL71710SLHM

1.3mA quiescent current and low EMI with no carrier or clock noise
Features of ISL73033SLHM Low-Side Driver and 100V GaN FET
Combines world-class GaN FET driver and GaN FET in a single package to simply gate design and improve efficiency

Reduces area size by 20 percent compared with an SMD 0.5 rad-hard MOSFET

VDS = 100V & IDS = 30A with 7.5mΩ (typ) RDSON

Ultra low total gate charge: 14nC (typ)

Integrated driver features 4.5V regulated gate drive voltage and 3A/2.8A sink/source capability
Applications
High-density distributed power systems

Medium Earth Orbit (MEO) applications

Geostationay Earth Orbit (GEO) applications
Availability
The ISL71610SLHM, ISL73033SLHM, and ISL71001SLHM are available now. The ISL71710SLHM will be available in September 2021 and the ISL71001SEHM will be available in Q4 2021.