New Automotive LDO Regulator ICs with Nano CapTM Topology Optimized for Primary Power Supplies in Body Systems and ADAS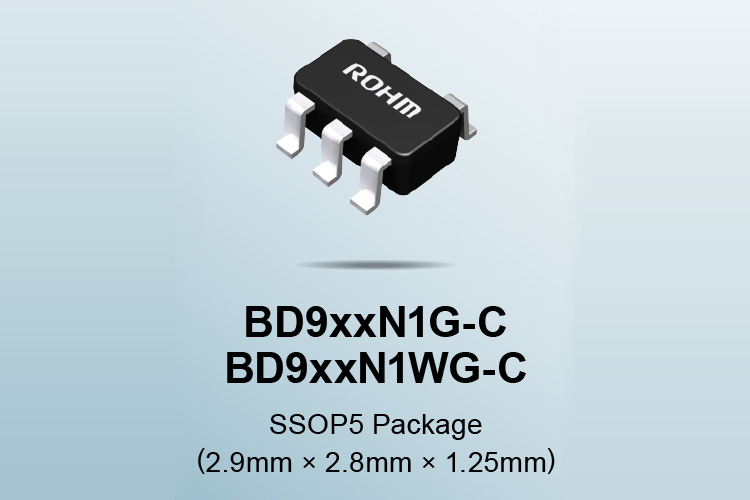 ROHM Semiconductor has introduced the new automotive LDO regulator ICs with stable operation at nanoscale output capacitance optimized for primary (direct connection to 12V) power supplies in a wide range of applications, including powertrain, body, ADAS, and car infotainment. The new BD9xxN1 series of automotive primary LDOs meets the basic requirements of automotive products, such as operation above 125°C, qualification under the AEC-Q100 automotive reliability standard, and input voltages greater than 40V for the primary power supply. 
Incorporating ROHM's Nano Cap ultra-stable control technology supports an output capacitance of 100nF, which is less than 1/10 of the value of standard products, to ensure stable operation required by applications (output voltage variation within 100mV: condition is 1mA ⇔ 50mA/1μs load current variation) even when the input voltage and load current fluctuate. This makes it possible to provide high performance with a good balance in terms of output capacitance range and response characteristics.
Features
Nano CapTM Topology (Note 1)

QuiCurTM Topology (Note 5)

AEC-Q100 (Note 6)

Automotive grade

Over Current Protection (OCP)

Thermal Shutdown Protection (TSD)

Under Voltage Lock Out (UVLO)
Applications
Powertrain (i.e. fuel injection) and tire pressure monitoring systems (TPMS)

Body systems (e.g. body control modules)

ADAS (e.g. Domain Controllers, ECUs, Zonal processing)

AInfotainment including instrument clusters and head-up displays (HUD)