Multi-zone Direct Time-of-Flight Sensor with Metasurface Lens Technology designed for Human-Machine Interfaces and Consumer LiDAR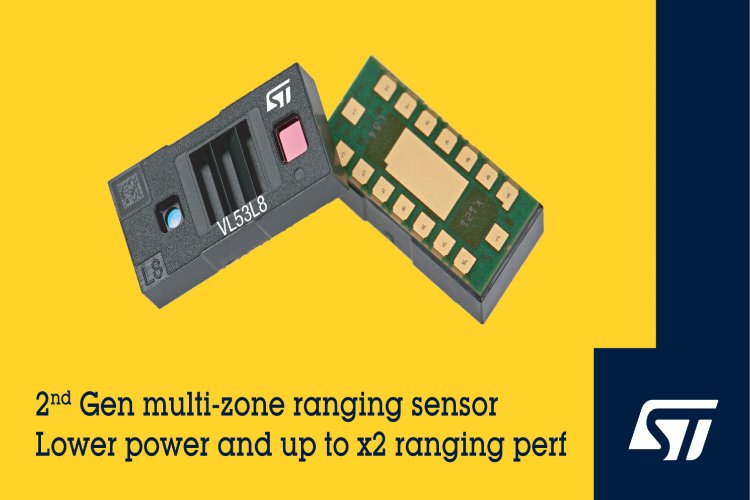 STMicroelectronics has announced its new FlightSense Time-of-Flight (ToF) ranging sensor VL53L8 that offers up to double the ranging performance while reducing the power consumption and is ideal for smartphones and tablets in both user-facing and world-facing applications. The user-facing applications include object tracking and gesture recognition and world-facing applications include laser-autofocus, camera selection, touch-to-focus, and flash dimming. Moreover, this sensor can also support indoor/outdoor detection and smart-focus bracketing, along with consumer LiDAR, where depth mapping is required.
This sensor adopts a metasurface lens technology in both the transmit and receive apertures and delivers 16 or 64 discrete ranging zones with stable and accurate improved ranging. This module embeds a high output 940nm VCSEL light source, a System-on-Chip sensor with an embedded VCSEL driver, the receiving array of SPADs, and a low-power 32-bit MCU core. For easy system integration, the sensor is housed in a single reflowable component that offers 1.2V and 1.8V I/O compatibility and significantly reduces the host processor loading over the demands of the first-generation sensor.
Features
Fully integrated miniature module

Fast, accurate distance ranging

Easy system integration

Emitter: 940 nm invisible vertical cavity surface emitting laser (VCSEL) and integrated analog driver

43.5 ° x 43.5 ° square (61odiagonal) system field of view (FoV) using diffractive optical elements (DOE) on both transmitter and receiver

Receiving array of single photon avalanche diodes (SPADs)

Low-power microcontroller running Firmware

Size: 6.4 x 3.0 x 1.75 mm
Applications
Smartphones

Smart speakers

Human-machine interfaces

Augmented reality/virtual reality (AR/VR) enhancement

Consumer LiDAR