MasterGaN Based 250W DC/DC Resonant Converter for Speeding up Efficient Power Conversion Applications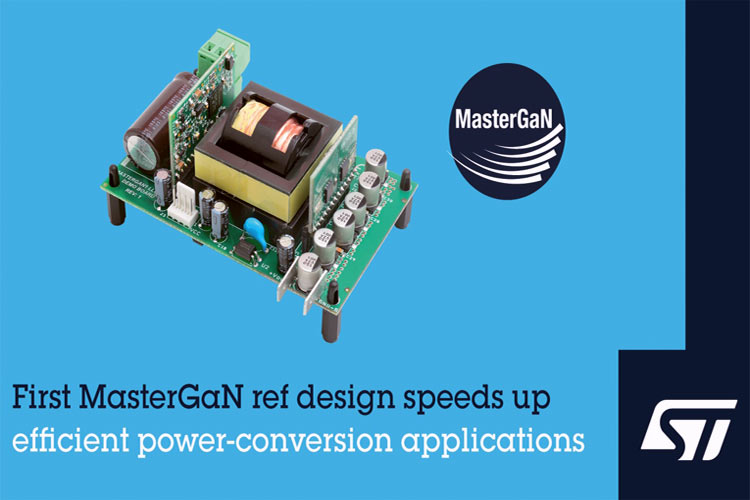 STMicroelectronics has introduced the EVLMG1-250WLLC reference design, which is a 250W resonant converter with a 100mm x 60mm board outline and 35mm maximum component height. The converter has been designed with the MasterGaN1 that contains one half-bridge STDRIVE gate driver optimally connected to two 650V normally-off GaN transistors with matched timing parameters, 150mΩ on-resistance (Rds(on)), and 10A maximum current rating.
The EVLMG1-250WLLC was designed for nominal 400V supply and provides a 24V/10A output and achieves maximum efficiency above 94%. The MasterGaN1 can be used in high-efficiency soft-switching topologies including resonant converters active clamp flyback or forward converters and bridgeless totem-pole PFC (power factor correction) in AC/DC power supplies, DC/DC converters, and DC/AC inverters up to 400W.
The MasterGaN's integrated safety features offer a protected output against short circuits and overcurrent. It also offers brown-out protection and an input-voltage monitor that permits sequencing within an array of DC/DC converters and prevents a motor from starting under low-voltage conditions.
With 650Vcircuitry and 2mm creepage distance between high-voltage and low-voltage pads, the MasterGaN family is offered in pin-compatible integrated half-bridge products including symmetrical and asymmetrical configurations and it is housed in a 9mm x 9mm low-profile GQFN package.
Features of EVLMG1-250WLLC DC/DC Resonant Converter
High efficiency and compact solution for DC/DC conversion using MasterGaN1

Output voltage: 24 V

Output power up to 250 W

Nominal Input voltage: 400 V +/- 10%

Efficiency: >92%

Outputs protected against short-circuit and overcurrent

Input voltage monitor for correct sequencing as D2D converter, and brownout protection

Board size: 100 x 60 (W x H) mm. Maximum components height: 35 mm

WEEE and RoHS compliant
Note: More technical information can be found in the EVLMG1-250WLLC Data brief linked at the bottom of this page and on the product page of EVLMG1-250WLLC DC/DC Resonant Converter.