M.2 Cards with Wi-Fi and Bluetooth Modules for Wireless Connectivity Options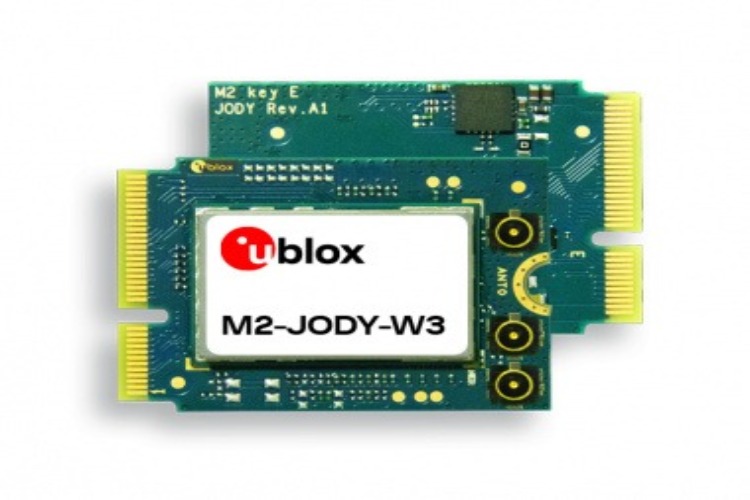 u‑blox has introduced a set of Wi-Fi 5, Wi-Fi 6, and Bluetooth expansion cards that plug into NXP Semiconductors' i.MX processor evaluation kits. The M2-JODY-W3 card and M2-JODY-W2 card are based on JODY modules and are built to the M.2 Type 2230 Key E form factor. Use cases for these Cards may include industrial automation, vehicle navigation and telematics, in-vehicle infotainment and hands-free audio, remote diagnostics and patient monitoring, security cameras, payment terminals, and other applications requiring high data rates. Wi-Fi functionality of both the Cards includes simultaneous access point, station, or Wi-Fi Direct modes.
The M2-JODY-W3 card comprises a u‑blox JODY-W3 Wi-Fi 6 and Bluetooth 5.1 module. The module's NXP 88Q9098 chipset supports IEEE 802.11ax and dual mode Bluetooth 5.1. It runs concurrent dual band Wi-Fi 2.4 GHz and 5 GHz networks using dual MACs, and 2x2 MIMO antenna set-up in each band. Moreover, Bluetooth support in the M2-JODY-W3 includes dual-mode Bluetooth 5.1 Classic and LE, and the standard's long-range operation option. The M2-JODY-M3 card supports simultaneous operation of Wi-Fi and Bluetooth.
The M2-JODY-W2 card features a u‑blox JODY-W2 Wi-Fi 5 and Bluetooth 5 module, which uses the NXP 88W8987 chipset to support IEEE 802.11ac and Bluetooth/Bluetooth Low Energy 5. The card supports dual-band Wi-Fi to the 802.11a/b/g/n/ac standards. It supports dual-mode Bluetooth 5 operation. The card is capable of dual port simultaneous operation of Wi-Fi and Bluetooth.
Features
M.2 type 2230 Key E form factor

Wi-Fi 20, 40, and 80 MHz channels

WPA3: all common methods of security and encryption

All standard pairing, authentication, link key, and encryption operation

Chipset is compliant with AEC-Q100
Applications
Industrial automation

Vehicle navigation and telematics

In-vehicle infotainment and hands-free audio

Remote diagnostics and patient monitoring

Security cameras

Payment terminals