LM4871 Audio Power Amplifier
The LM4871 is a mono bridged audio power amplifier capable of delivering 3W of continuous average power into a 3Ω load with less than 10% THD when powered by a 5V power supply. Additional LM4871 features include thermal shutdown protection, unity-gain stability, and external gain set.
LM4871 Pinout Configuration
| | | |
| --- | --- | --- |
| Pin Number | Pin Name | Description |
| 1 | SHUTDOWN | Shutdown Pin. Activate Shutdown mode when VDD is applied to this pin |
| 2 | BYPASS | Bypass Pin for low noise performance and high power supply rejection. |
| 3 | Non- Inverting Input (+IN) | The Non - Inverting Input Pin of Amplifier |
| 4 | Inverting Input (-IN) | The Inverting Input Pin of Amplifier |
| 5 | Vout1 | Output Pin of Amplifier |
| 6 | VDD | Positive supply terminal |
| 7 | GND | Ground |
| 8 | Vout2 | Output Pin of Amplifier |
LM4871 F

eatures and Specifications:
PO at 10% THD+N, 1kHz

Number of Channels: 1 Channel

Supply Voltage Range:

2.0V to 5.5 V

Operating Supply Current:6.5 mA

PSRR - Power Supply Rejection Ratio: 60 dB

Output Power: 3W

Audio - Load Impedance: 3 Ohms

THD plus Noise: 0.25 %

Shutdown Current:

0.6µA (typ)

THD at 1kHz at 1W Continuous Average Output Power into 8Ω 0.5% (max)

Available in 8-Pin WSON, VSSOP, SOIC, or PDIP packages
Note: Complete Technical Details can be found at the LM4871 datasheet give at the end of this page.
Equivalent for LM4871: 8002B, 8002A, TDA2050
Alternatives Audio Amplifiers: LM386, TDA2030, LM1875, AD620, IC6283, JRC4558
Where to use the LM4871 Audio Amplifier?
The LM4871 is an Audio Amplifier with Shutdown mode feature. LM4871 does not require output coupling capacitors, bootstrap capacitors, or snubber networks, it is ideally suited for low-power portable systems that require minimum volume and weight. LM4871 audio power amplifiers are designed specifically to provide high power, high fidelity audio output. nSo you can use this audio amplifier in portable computers, desktop computers, and low voltage audio systems.
How to use LM4871:
The LM4871 only require few external components and operate on low supply voltages from 2.0V to 5.5V. The application circuit from the LM4871 datasheet is given below.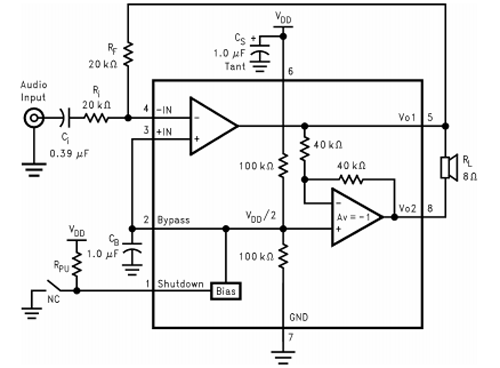 As shown in the above diagram, the LM4871 has two operational amplifiers internally, allowing for a few different amplifier configurations. The first amplifier's gain is externally configurable; the second amplifier is internally fixed in a unity-gain, inverting configuration. The closed-loop gain of the first amplifier is set by selecting the ratio of Rf to Ri while the second amplifier's gain is fixed by the two internal 40kΩ resistors. The figure shows that the output of amplifier one serves as the input to amplifier two, which results in both amplifiers producing signals identical in magnitude, but 180° out of phase.
Applications of LM4871:
Portable Computers

Desktop Computers

Low Voltage Audio Systems
2D-Model

LM4871
:
2-D dimensions for LM4871 8-pin PDSO package is given below