L6983C/N - Synchronous DC/DC Converters for Smart Industrial Applications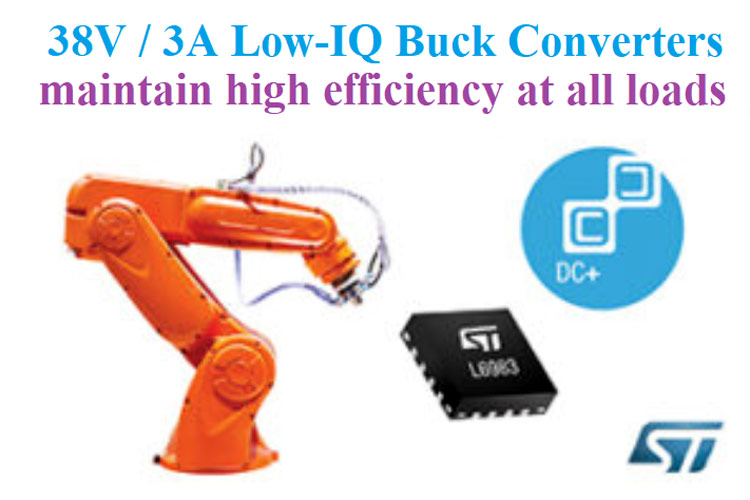 STMicroelectronics has introduced a new converter IC called L6983 which is a 38V/3A Synchronous DC/DC converters with high efficiency of 95%. The new converters are highly integrated with synchronous MOSFETs on-chip to save external components and simplify the design. With an extremely low quiescent current of 17µA, L6983 converters are available in two different variants, L6983C (Low Current Consumption) and L6983N (Low Noise). The L6983C enters pulse-skipping mode when the load current is below 0.6A while the L6983N, suitable for noise-sensitive applications, stays in PWM (pulse-width modulation) mode at all loads to minimize electromagnetic disturbances.
Features of L6983 Synchronous DC/DC Converters
3.5 V to 38 V operating input voltage

The output voltage from 0.85 V to VIN

3.3 V and 5 V fixed output voltage versions

3 A DC output current

17 μA operating quiescent current

2 μA shutdown current

Internal soft-start

Enables Overvoltage protection, Output voltage sequencing, and Thermal protection

200 kHz to 2.2 MHz programmable switching frequency. Stable with low ESR capacitor
Note: Complete technical details about Synchronous DC/DC Converters can be found in the L6983 datasheet linked at the bottom of this page.
The L6983 converters are the best suitable solutions for 12V and 24V industrial bus-powered systems, battery-powered equipment, decentralized intelligent nodes such as smart-building controllers, and always-on devices including smart sensors. The Converters are equipped with a Power Good output pin that can be used for power-up/power-down sequencing enabling logic circuitry or as a fault indicator. They also have integrated feedback –loop compensation, overvoltage protection and soft-start circuitry that simplifies the design of a complete power supply system.  
Frequency spread-spectrum operation and external frequency synchronization ease EMC compliance. The devices are packaged in a 3mm x 3mm QFN16 package. For more information about L6983 Converters, visit the official website of STMicroelectronics.