IR388xM – Integrated Point Of Load (POL) Buck Voltage Regulators with COT Engine for Server, Base Station, and Telecom Applications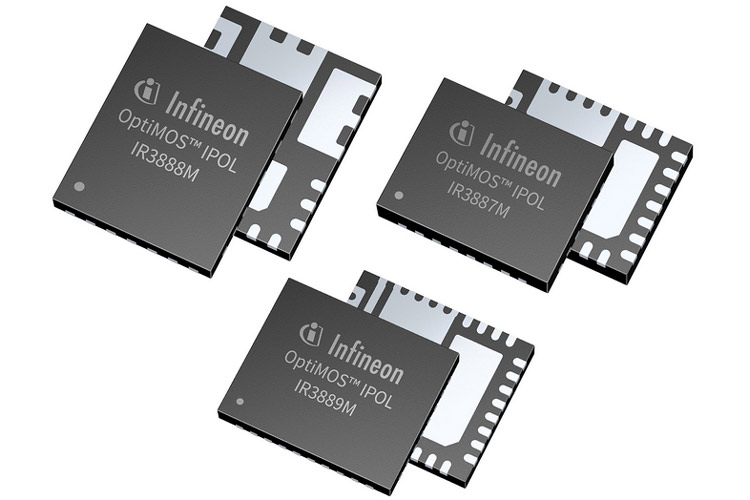 Infineon Technologies has introduced three new devices to its new family of integrated-point-of load voltage regulators. The IR3887M, IR3888M, and IR3889M devices features fast, enhanced stability constant on-time (COT) engine with ceramic capacitors, this eliminates the need for external compensations. TheIR3887M designed by combining Infineon's latest FET generation and enhanced package technology, allowing thermal support for 30A in a small 4mm x 5mm footprint.
Wide input voltage range of 4.3 V - 17 V, 2 Vmin with 5 V external bias, and precise output voltage (0.5 % accurate reference voltage) are supported. These voltage regulators deliver high efficiency at light load and thermally compensated internal over-current protection with four selectable limits for a less expensive and smaller inductor. The devices were designed to deliver better efficiency, low power losses, and high switching frequency for small PCB size with less BOM cost in easy design and layout.
Features of IR3888M & IR3889M Buck Regulators
Single 4.3 V to 17 V applications or Wide Input Voltage Range from 2.0 V to 17 V with an External VCC

Precision Reference Voltage: 0.6 V +/- 0.5 % (IR3888M), 0.8 V +/- 0.5 % (IR3889M)

Enhanced Fast COT engine stable with Ceramic Output Capacitors and No External Compensation

Optional Forced Continuous Conduction Mode and Diode Emulation for Enhanced Light Load Efficiency

Programmable Switching Frequency from 600 kHz to 2 MHz

Monotonic Start-Up with Four Selectable Soft-Start Time & Enhanced Pre-Bias Start-Up

Thermally Compensated Internal Over Current Protection with Four Selectable Settings

Enable input with Voltage Monitoring Capability & Power Good Output

Thermal Shut Down

Operating Temp: -40 °C < Tj < 125 °C

Small Size: 6 mm x 5 mm PQFN

Lead-free, Halogen-free and RoHS2 Compliant
More Technical Details about the IR3888M & IR3889M voltage synchronous buck regulator can be found in respective product page links. The datasheet of IR3888M is also attached at the bottom of this page.
These voltage regulators can thermally handle up to 30A of continuous current, hence they are preferably used in Servers, base station and telecom (operating at 85˚C ambient temperature) and storage applications requiring both high efficiency and high density. Both IR3888M and IR3889M are in stock now whereas the IR3887M device will be released in 2020.