High Performance NFC Forum Reader Devices with Noise Suppression Receiver designed for Payment, Consumer and Industrial Applications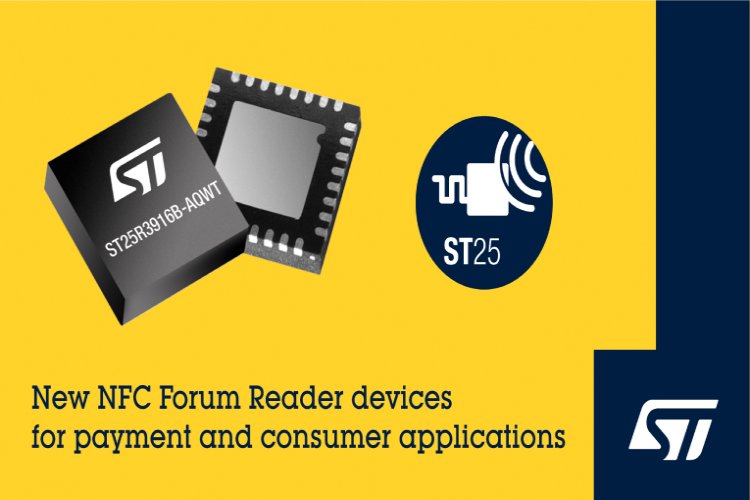 STMicroelectronics has announced two new NFC Forum Reader devices ST25R3916B-AQWT and ST25R3917B-AQWT that support NFC initiator, target, reader, and card-emulation modes and can be used in contactless payment, device-pairing, wireless-charging, brand protection, and other industrial and consumer applications. These ICs offer a wide power-supply voltage range, from as low as 2.4V to 5.5V, and operating temperatures from -40°C to 105°C. These new devices introduce improved active wave shaping (AWS) with increased flexibility that simplifies the adjustment of the RF output to optimize overshoot and undershoot. Moreover, both devices offer a high level of resistance to both radiated noise and conducted noise.
These devices deliver up to 1.6W RF output power and can drive antennas directly at high efficiency. Dynamic power-output (DPO) adjustment enables designers to keep the radiated power between the upper and lower limits defined by EMVCo and the NFC Forum specifications. Combining a highly noise-resistant input structure and noise-suppression receivers (NSR), these devices have high immunity to interference from other nearby equipment such as power supplies and POS terminals.
Features
Dynamic power output (DPO) controls the field strength to stay within given limits

Active wave shaping (AWS) reduces over-and under-shoots

Noise suppression receiver (NSR) allows reception in noisy environment

Automatic antenna tuning (AAT) via variable capacitor

Integrated EMVCo® 3.1a compliant EMD handling

Automatic gain control and squelch feature to maximize SNR

Low power NFC active and passive target modes

Adjustable ASK modulation depth, from 0 to 82%

Integrated regulators to boost system PSRR
Applications
Contactless-payment

Device-pairing

Wireless-charging

Brand protection

Industrial applications

Consumer applications
Availability
Free samples of these devices are now available on ST eStore in 32-lead VFQFPN 5mm x 5mm x 1mm package and 36-bump wafer-level chip-scale package (WLCSP) options.