High Efficiency and Cost Effective 5-25W Board Mount AC-DC Power Supplies With Wide Operating Temperature Range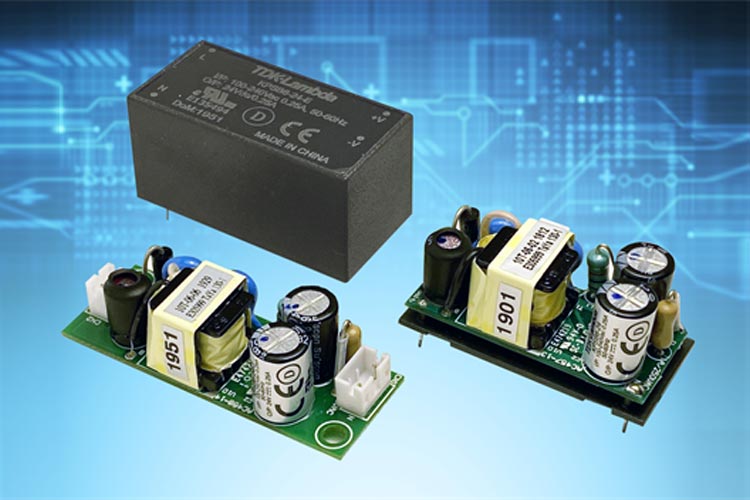 TDK Corporation has introduced the KPSB6 series of 5 to 6W and the KPSB25 series of 20 to 25W board mount AC-DC power supplies that can operate in ambient temperatures of up to -40 to +80°C. With the dimensions 39.5 x 19.4 x 18.3mm (L x W x H), KPSB-6 delivers 6W output power (5W at 3.3V) and has 3.3, 5, 9, 12, 15, and 24V output voltages. With the dimensions 50.8 x 27.94 x 24.9mm (L x W x H), the KPSB-25 delivers 25W output power (20W at 5V) and has 5, 12, 15, 24, 36, and 48V output voltages.
The new cost-effective, compact PCB mount supplies are ideal for factory automation, communication, instrumentation, building security, and industrial control applications. Apart from open frame board mount packages, encapsulated or chassis mounted models with plug-in connectors are also offered.
The KPSB6 has an off-load power consumption of less than <75mW and the KPSB25 <100mW. The operating ambient temperature for the 6W models is -40 to +80°C, derating linearly to 50% load from 60 to 80°C. Whereas, the temperature range for the 25W models is -30 to +70°C, derating linearly to 50% load from 50 to 70°C.
All the KPSB6 models are certified to IEC/UL/CSA/EN 62368-1 and come with the CE mark for the Low Voltage, EMC and RoHS Directives. The models are in compliance with the EN 55032-B (Class B) EMI and EN 55024, EN 61204-3 immunity standards and meet IEC/EN 60335-1 (Household Appliances) and IEC/EN 61558-1 (Transformer safety). carry the CE mark for the Low Voltage, EMC and RoHS Directives.
Features KPSB Single Output Supplies 
High Efficiency, Up to 87%

Accepts a wide 90 to 264Vac input

Input to output isolation is 3,000Vac

IEC 62368-1 Certified

Low No Load Power Consumption

Touch current less than 250µA

Wide Operating Temperature

Class II, Wide Range Input (90-264VAC)
Note: More technical information can be found in the KPSB Datasheet linked at the bottom of this page and on the KPSB single output supplies product page.