Fully-Integrated DC/DC Buck Regulator SZDL3105B for USB-PD and Fast Charging Power Adapters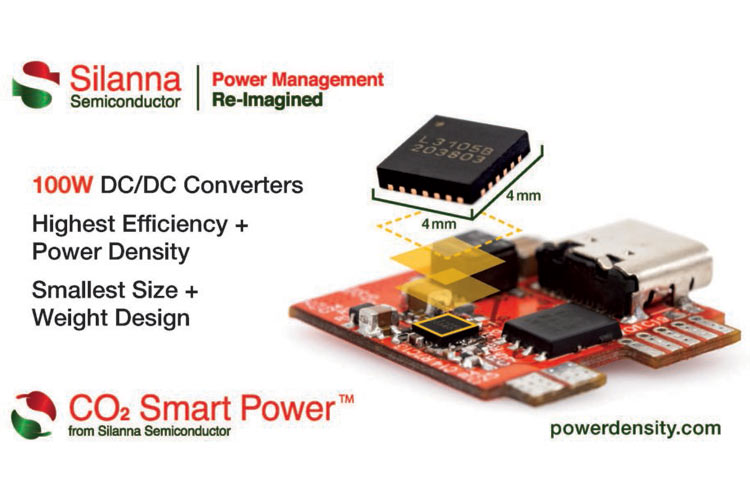 Silanna Semiconductor has extended its CO2 Smart Power family of wide-voltage, high-frequency point of load converters with a 100W device SZDL3105B which is optimal for USB-PD and fast charging USB ports. The SZDL3105B is a fully-integrated DC/DC converter (buck regulator) that can supply up to 5 amps and 100 watts of output power and can operate at a switching speed of 667kHz. Moreover, it accommodates wide input and output ranges that support up to 27VDC input.
The SZDL3105B has unique features that optimize its performance in USB port power supply applications.It has extremely low operating power dissipation that  enables the very low no-load power which  is an important specification for regulatory certification. Its internal and external feedback resistor divider flexibility supports custom design, while a momentary internal feedback path allows for clean and well-controlled start-up operation until external USB port controllers can bias themselves and smoothly take over control of the output voltage. 
Tim Wilhelm, Director of Marketing, said that, "Higher switching frequency means a smaller, lower cost, higher performing output filter that has delighted the clients we have sampled. The SZDPL3105B device enables ground-breaking efficiencies in the smallest size and weight designs. Our support tools give customers the flexibility and confidence to quickly increase the performance efficiency. This ultimately increases power density with volumes approaching 12% of that required by low-frequency competitive solutions. The SZDL3105 significantly reduces BOM cost, design cycles and time to market."  
Mark Drucker, CEO of Silanna Semiconductor said that, "At Silanna Semiconductor we have the mantra 'Power Management Re-Imagined' and the SZDL3105B is one more example of how we approach the challenges of size and cost completely differently. Our design team increased the operating frequency and maintained the highest efficiency and power density, which allows unheard of size and cost reductions.  We are witnessing some fantastic customer reactions, which have resulted in a large number of early design wins particularly in USB-PD applications. We are building a stable of CO2 Smart Power devices and it's exciting to see our design teams focus on the end-to-end power solutions with complementary DC/DC and AC/DC product families that achieve best-in-class efficiency." 
Key Features of SZDL3105B DC DC Converter
Optimal for USB-PD and fast charging USB ports

Up to 100W USB-PD ports  

667kHz switching frequency for compact designs

3.3V to 21V output at 5A (covers USB-PD 3.0 and PPS applications)  

7V to 27V Input    

Dual input LDOs (VIN and VOUT) for product bias optimizes overall efficiency

Space saving 4mm x 4mm QFN package  

CO2 Smart Power by Silanna Semiconductor
Applications
USB-PD and fast charging power adapters 

High power density DC/DC power supplies 

High-efficiency power adapters 

Battery chargers for mobile devices  
Availability
SZDL3105B devices are being sampled to key accounts and will be fully released in the second half of 2021.