Flexible Multi-Hall-Array CUR 4000 Sensor for High Accuracy DC and AC Measurements in High-Power Battery Monitoring Applications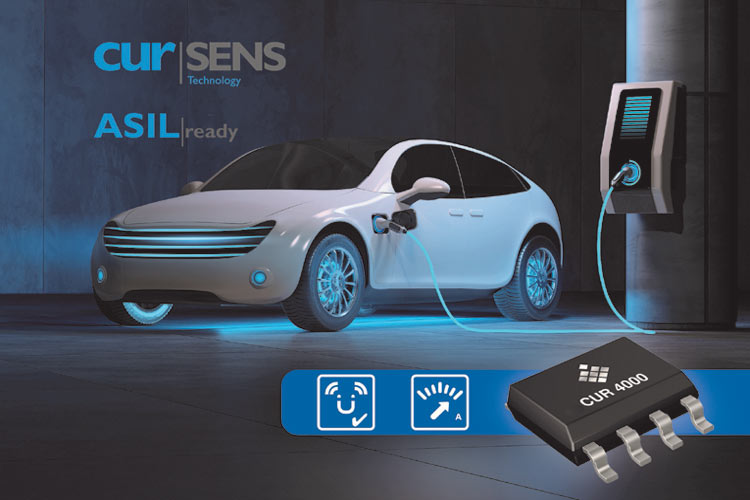 TDK corporations have introduced the CUR 4000 sensor as an expansion to its Micronas Hall-effect sensor portfolio. The CUR 4000 is suitable for DC and AC measurements and overcurrent detection in high-power battery monitoring applications and it can offer non-intrusive, galvanic isolated contactless current sensing up to ≥2000 A. Developed for highly accurate current measurements in automotive and industrial applications the sensor comes with different configurable modes for linear core-based and differential coreless application setups.
In the linear modes of CUR 4000, a configurable array of Hall elements enables highly accurate measurements for core-based stray-field robust sensor-module designs. The differential mode enables minimal coreless and stray-field robust system designs without shields. With an output-offset temperature-drift below ±0.05 percent full scale, the sensor delivers a non-linearity error of ±0.2 percent and a noise performance of ±0.005 percent full scale, this helps in precise current measurements with a signal bandwidth of up to 8kHz.
Primary characteristics like temperature-dependent gain and offset can be adjusted to the magnetic circuitry by programming the non-volatile memory. CUR 4000 is available in a small eight-pin SOIC8 SMD package for less complex assembly compared to through-hole packages.
Features of CUR 4000 Current Sensor
Multi-Hall-array sensor technology for high-precision core-based current sensing

Configurable for highly accurate linear current sensing with a read-out of multi-Hall-array or for differential coreless and stray-field robust current sensing

Contactless current sensing (non-intrusive)

SEooC ASIL-B ready according to ISO 26262 to support Functional Safety applications

Digital (SPI) interface for direct microcontroller connectivity and sensor programming

Sleep modes (wake-up pin) for low power consumption

Automotive temperature grade (TA = -40 °C up to 150 °C) 
Note: More technical information can be found CUR 4000 Datasheet linked at the bottom of this page and on the product page of CUR 4000 Current Sensor.