Family of 42-V Synchronous Buck DC/DC Controllers with Ultra-Low IQ and Integrated Active EMI Filter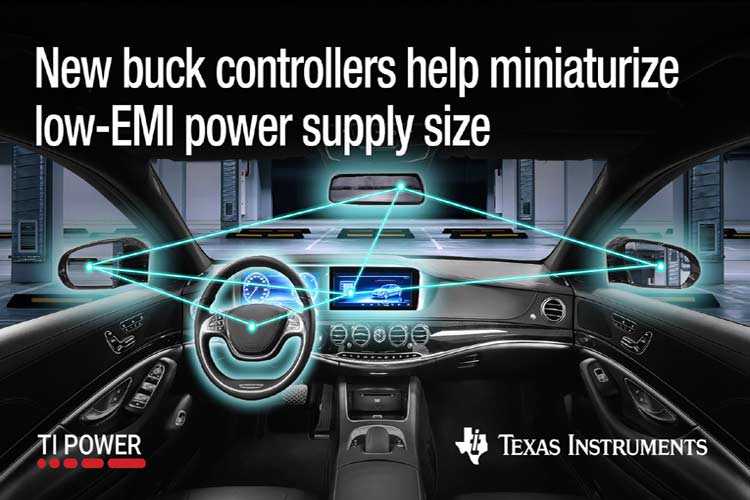 Texas Instruments has introduced the LM25149-Q1 and LM25149, a new family of synchronous DC/DC buck controllers that feature an integrated active EMI filter (AEF) and dual-random spread-spectrum (DRSS) technology. The new family halves the area of the external EMI filter and lowers the conducted EMI of the power design by 55 dBµV across multiple frequency bands, or achieves a combination of reduced filter size and low EMI.
By integrating the AEF, the LM25149-Q1 and LM25149 buck controllers enable engineers to meet EMI standards while increasing their design's power density. The integrated AEF allows the users to detect and reduce conducted EMI in the low-frequency band of 150 kHz to 10 MHz and allows them to attenuate EMI by up to 50 dBµV at a switching frequency of 440 kHz, relative to a design with the AEF disabled, or as much as 20 dBµV when compared to a design with a typical passive filter.
These new devices deliver an excellent reduction of power supply EMI in advanced driver assistance systems (ADAS), automotive infotainment and cluster, building automation, and aerospace and defense designs. Compared to other competing solutions, LM25149-Q1 and LM25149 buck controllers can save up to 50% of the area and over 75% in volume of the front-end EMI filter at 440 kHz. The devices also increase the power density by enabling interleaved dual-phase operation and by integrating the bootstrap diode, loop compensation, and output-voltage feedback components, which in turn reduces design complexity and cost.
The LM25149-Q1 and LM25149 are available now in a 3.5-mm-by-5.5-mm thermally enhanced, 24-pin very thin quad flat no-lead (VQFN) package. Pricing starts at US$1.42 and US$1.20 in 1,000-unit quantities, respectively.
Features of LM25149-Q1 and LM25149 Buck Controllers
Active EMI filter for enhanced EMI performance at lower frequencies

Dual random spread spectrum (DRSS) for enhanced EMI performance across low and high-frequency bands

EMI reduced by an average of 25 dBµV

Reduces the external differential-mode filter size by 50% and lowers systems cost

Wide input voltage range of 3.5 V to 42 V

1% accurate, fixed 3.3-V, 5-V, 12-V, or adjustable outputs from 0.8 V to 36 V

150°C maximum junction temperature

Shutdown mode current: 2.2 µA

No-load standby current: 9 µA

Switching frequency from 100 kHz to 2.2 MHz
Note: More technical information can be found in the LM25149 Datasheet linked at the bottom of this page and in the product pages of LM25149-Q1 Buck Controllers and LM25149 Buck Controllers.