EV12AQ605 - Quad 12bit, 1.6GSps, High Speed, High Bandwidth ADC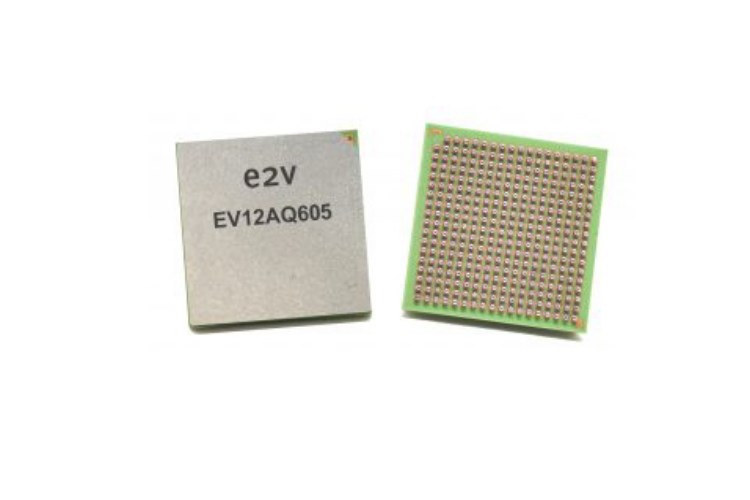 Teledyne has introduced EV12AQ605, its latest 12-bit quad, 1.6 GSps, high speed, high bandwidth ADC as the optimized version of EV12AQ600. Customers can design systems that operate the EV12AQ605 independently or synchronized, in quad-channel mode at 1.6 Giga Sample per second (GSps), in dual-channel mode at 3.2 GSps or in single-channel mode at 6.4 GSps.
The EV12AQ605 contains a proven chain synchronization feature that helps to meet the growing trend of increasing channel counts in large phased array antennas and Multiple Input Multiple Output (MIMO) systems for wideband microwave backhaul and multichannel Digital Storage Oscilloscopes (DSO). Hence these new ADC is highly capable and customizable, suitable for Telecommunications, Test and Measurement systems.
Features of EV12AQ605 ADC:
Quad-channel 12-bit 1.6 GSps ADC. 

1 Vpp 100Ω differential DC/AC coupled input voltage

100Ω Differential input AC coupled clock

Cross-point switch enabling 1, 2 or 4 channel mode at 6.4 GSps/3.2 GSps/1.6 GSps

4.5/>6GHz selectable analog input bandwidth (-3dB)

Low Latency ESIstream serial link at 12.8 Gbps

Power supply: 3.3V (analog), 2.5V (I/O), 1.2V (digital), optional 1.8V (SPI)

Power consumption 6.6W (Typical)

SPI digital interface (gain, offset, sampling delay adjust, test modes)

2 manufacturing calibration sets for interleaving (through IN0 input)

ADC Gain, Offset, Sampling delay adjustment for user's interleaving calibration

Clock and SYNC chaining

Package: CBGA323 (HiTCE) 16x16mm pitch 0.80mm: RoHS

Temperature range: Tc -40°C / Tj +110°C
Note: More technical details on EV12AQ605 ADC can be found in the product brief attached below.
The EV12AQ605 features a Cross Point Switch (CPS) that allows the device to operate its four cores simultaneously, Independently, or Paired, to assign its 6.4GSps Sampling Speed across the user's desired channel count. The ADC bridges the Gap between the analog RF world and the digital world with a bandwidth exceeding 6.5GHz.  This helps the system designers to develop advanced, flexible and Scalable equipments.
The EV12AQ605, a single ADC part number can supply and qualify different system configurations that can address a large range of end applications such as Automatic Test Equipment, High-speed Data Acquisition, Oscilloscopes, Phased-Array RADAR Receivers, Wide Band Satellite Receivers, , LIDAR (Light Detection And Ranging), Direct RF data conversion and High Energy Physics. For more details about the EV12AQ605 visit the product page on the official website of Teledyne.